Sleepy Hollow Bosses Tease New Team and New Witness in Revamped Season 4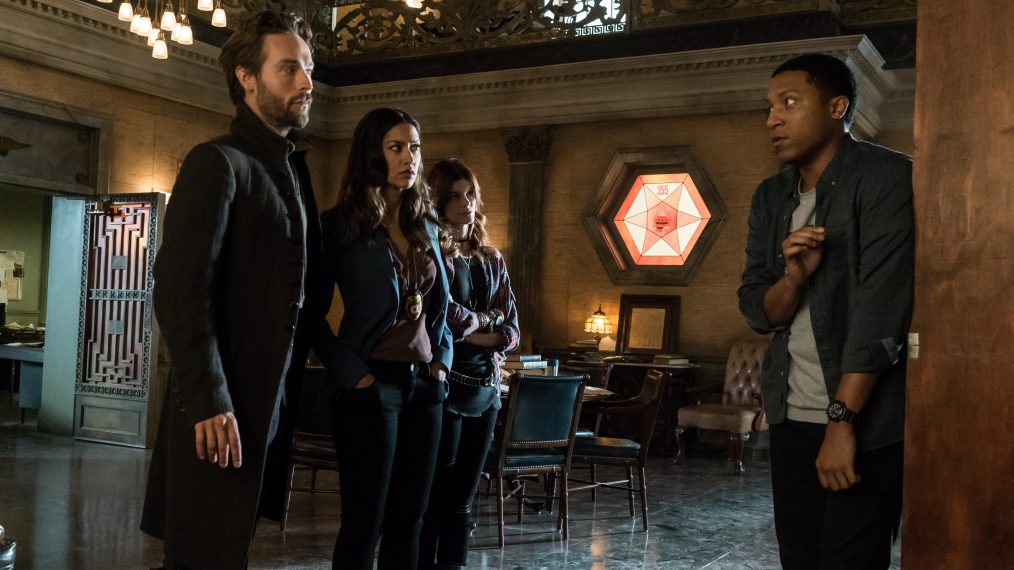 After Sleepy Hollow's third season—which included the series saying goodbye to Abbie Mills (and co-lead Nicole Beharie exiting the series)—the Fox drama returns for Season 4 with Ichabod Crane (Tom Mison) in a new location—Washington D.C.—with a new team. For Friday's season premiere, "We had to reinvent the show," executive producer Clifton Campbell acknowledges.
"In a lot of ways, [it] is also like a pilot," executive producer Albert Kim says. "A new cast of characters, a new setting, a new storyline. We closed a pretty big chapter in the show last season; this was really a fresh start."
"When I was talking to some of the Fox executives about how we were going to go ahead with this premiere and this season, I said, 'It's a pilot with strings,'" Kim continues. "A pilot is a fresh start, a new show. Here, we always have a lot of backstory and legacy to honor, as well. So that was a challenge: making sure we kept the show true to what people loved about it, but still going forward in a new direction with new characters and stuff like that…It's a balancing act between paying homage to what has come before and keeping an eye on what is up ahead."
RELATED: Sleepy Hollow: First Look at Ichabod's New Team
While Ichabod is in D.C., he finds his new team: Alex (Rachel Melvin) and Jake (Jerry MacKinnon), two members of Washington's supernatural-fighting organization; and single-mother Diana (Janina Gavankar), a Special Agent for Homeland Security who also lost her partner. Though some may want to compare Diana and Abbie—and "in a lot of ways, she's similar to Abbie," says Kim. "She's strong, she's confident, she's a really smart woman and partner for Crane."—the writers set out to make the relationship between the duo different. "She's [an] ex-military person, and that's an important part of her makeup," Kim says. "She's a single mom. That very much informs her character, because her priorities are there with her daughter. When Crane starts interacting with her [daughter], it's completely new for him. Family has always been a big theme for the show, in many seasons. In this year, it's a different aspect of family he hasn't considered. And so it puts him, kind of by default, in a father figure role, which is something he hasn't had…he's dealt with that in the past when he found out he was a father and didn't have the chance to be a father. That all led to part of the reason we wanted John Noble to come back this season: it plays into all of those issues."
The team will have a tough task ahead as the nation's capital proves to be just as dangerous for supernatural foes as Sleepy Hollow was for them. "There is a despair creature—it was used during the Revolutionary War, and really attacks Crane in a very personal way," Campbell previews. "The show has used witches before, and this time, because we're in Washington D.C., we have a coven of beltway witches we have a lot of fun with. In our search for the new Witness, there are a number of beasts that help us identify deeper levels of who that person is. We have a wolf demon who takes the origin of Witness back to Plymouth Rock. That lets us define the trail all Witnesses go through, which is pretty fun and pretty exciting."
The biggest foe of all may be the show's new Big Bad, Malcolm Dreyfuss (Jeremy Davies)…who is human. "In the past, our Big Bads had been demons and gods," Kim notes. "Making the Big Bad a human was really a lot of fun. First of all, it's really hard to relate to a demon of some kind; it's hard to get into their heads and motivation and all of that. When Moloch was a Big Bad, he was the glowering personification of evil. Last year, Pandora was a little different; we made it clear she had human origins."
However, Ichabod and his team will be able to rely on a familiar face—Jenny (Lyndie Greenwood), who arrives in D.C. after pursuing leads on the whereabouts of the new Witness. "She's gone through an enormous amount of challenge; I don't know how anybody could possibly come back from the loss and the elements of her life that have been taken from her," Campbell says. "But she always defaults to a personal courage and strength that's deep inside of her; this season as committed as ever to standing at Crane's side and helping him find the new Witness…I think she finds herself even more aligned and closer to Crane. But that's also something this season, after she is able to help Crane find a path, she starts to look at herself and her life and starts to find different sides of her that will come into play this season."
RELATED: Sleepy Hollow: John Noble, Headless to Return and More Season 4 Teases
The question of who the new Witness is will be resolved this year. "The search is paramount in the beginning of the season," Kim teases. "The whole season is not going to be a hunt for the next witness. It's more a matter of finding out who it is and then figuring out how to handle that situation…It is a very important issue for Crane. But at the same time, he's dealing with being in a new city and having the new friends and teammates, who, at least initially, don't know about this. That's not something they're invested in. He's juggling all of that, all at once."
And Crane will be dealing with his own struggles, as he continues to grieve Abbie—something that mirrored the writers' own journey. "We understand and we know that fans fall in love with characters; so do we," Campbell says. "It's not, for a lot of reasons, always easy to carry a show through with all of those characters. Particularly a show where death is so at hand."
"We obviously didn't want to ignore what happened," Kim adds. "It was something we wanted to honor, in terms of what Abbie meant to him and still means to him. It's not something he moves past right away. At the same time, you don't want the show to be so mired in sadness and depression; you need to move forward. And so, it was the question of modulating how that plays out. Abbie is not forgotten. There are always hints of her throughout the season, especially in the beginning. He never forgets who she was and what she meant to him."
Sleepy Hollow, Season Premiere, Friday, January 6, 9/8c, Fox