'Magpie Murders' and More 'Masterpiece Mystery,' 'Celebrity Jeopardy' Semifinal, Megan Thee Stallion Rides Into 'SNL,' Succession Drama on 'Dragon'
Magpie Murders
SUNDAY: Parallel mysteries unfold in a clever Masterpiece Mystery! adaptation of Anthony Horowitz's terrific page-turner. The set-up: A famed but obnoxious mystery writer is murdered, leaving behind a manuscript, Magpie Murders, with a missing final chapter. As book editor Susan Ryeland (the delightful Lesley Manville) seeks those precious pages, we watch the fictional mystery play out—featuring a best-selling European sleuth, Atticus Pünd (Tim McMullan)—even as Susan plays amateur sleuth to figure out who killed her author. (See the full review). Preceded by the Season 2 premiere of Miss Scarlet and the Duke (8/7c), starring Kate Phillips as an ahead-of-her-time female investigator in chauvinistic Victorian London. In the opener, she pursues a missing-persons case that once again puts her in conflict with Scotland Yard Inspector William "the Duke" Wellington (Stuart Martin), who admires her spunk even when it causes him headaches.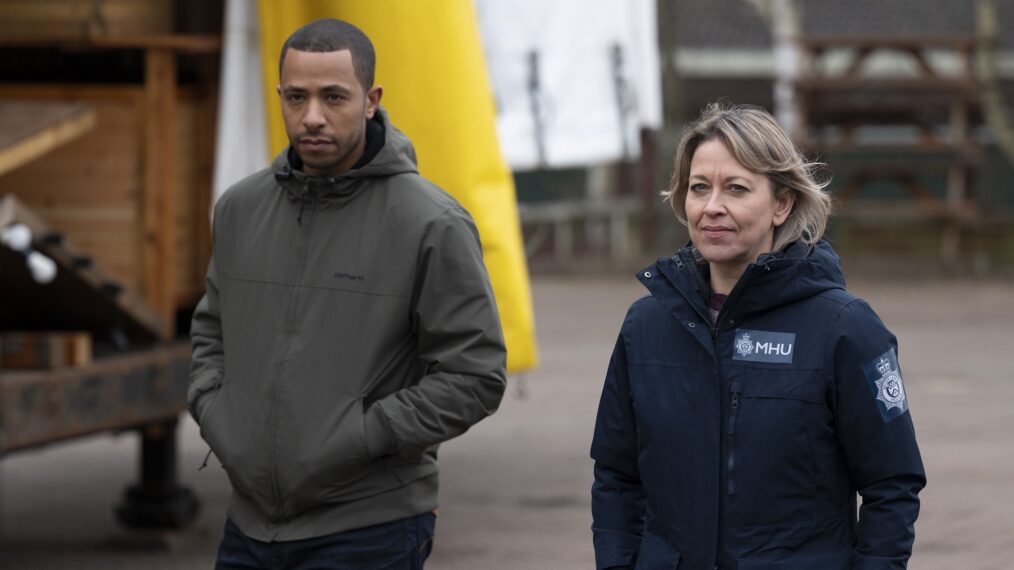 Annika
SUNDAY: A full night of female-driven Masterpiece Mystery! series is capped by the return of Masterpiece alum Nicola Walker (Unforgotten) as Scottish detective (of Norwegian heritage) Annika Strandhed. When she talks, you can't help but listen—because she's always breaking the fourth wall to address the viewer directly, with droll observations on life and literature as she tackles cases with the newly formed Marine Homicide Unit.
Celebrity Jeopardy!
SUNDAY: Sometimes it's hard to distinguish this prime-time version of the game from the parody that used to run on Saturday Night Live. Some of the celebs who've participated in the first three weeks seem to have little more knowledge of the game than its theme song, demonstrating just how nerve-wracking it can be to buzz in and answer correctly. But three players have made it through to the first semifinal round, and based on their previous gamesmanship, The Mindy Project's Ike Berinholtz is favored to beat comedian Iliza Shlesinger and Marvel star Simu Liu. (I'm still smiling about the latter's surprise win in the first episode). One will move on to the finals, with $1 million at stake for their chosen charity.
Saturday Night Live
SATURDAY: Recently seen twerking with She-Hulk (Tatiana Maslany), superstar rapper Megan Thee Stallion surely knows how to have a good time. Let's hope she can bring some of that energy to the late-night comedy/variety show when she returns for a second musical guest appearance, joining the cast as a first-time guest host.
House of the Dragon
SUNDAY: Mourning has broken over Kings Landing in the tense penultimate chapter of the Game of Thrones prequel's first season. The ailing King Viserys (Paddy Considine) is no more, and before the body is even interred, the squabbling begins. The question becomes who will rule Westeros: the king's chosen heir, first-born daughter Rhaenyra (Emma D'Arcy), now married to her uncle Daemon (Matt Smith); or his odious son, Aegon (Tom Glenn-Carney), who no one truly believes is fit to wear the crown. Though when did that ever stop anyone?
The Walking Dead
SUNDAY: The good news following the Founders Day riot: The town has been rid of one of its worst citizens. The bad news: There will be consequences, and it looks like the scapegoat Governor Milton (Laila Robins) has chosen is Eugene (Josh McDermitt). Outside the walls, a supply team including Aaron (Ross Marquand), Jerry (Cooper Andrews) and Lydia (Cassady McClincy) run across a most peculiar herd of zombies.
Inside Weekend TV:
48 Hours (Saturday, 10/9c, CBS): The true-crime series tries to make sense of the bizarre death in 2019 of University of Georgia professor Marianne Shockley, found dead in a hot tub at the home of psychologist Clark Heindel, who killed himself while deputies worked the scene. The only survivor: Shockley's boyfriend, who was indicted for felony murder but acquitted.
Who the (Bleep) Did I Marry? (Saturday, 10/9c, Investigation Discovery): The love-gone-wrong true-crime series returns after a seven-year hiatus with the cautionary tale of an Army wife who discovers her decorated husband, a colonel, isn't who or what he seems.
Sunday Morning (Sunday, 9 am/ET, check local listings, CBS): Famed former Nightline anchor Ted Koppel presents a special edition of the newsmagazine titled "A Nation Divided?" Segments explore the polarizing impact of social media, the Internet and talk radio, with Koppel interviewing legendary TV producer Norman Lear and EGOT musician/producer John Legend.
The Cave of Adullam (Sunday, 5 pm/ET, ESPN): Laurence Fishburne is executive producer of an ESPN Films documentary about very special karate kids who attend The Cave of Adullam, an inner-city Detroit dojo whose mission is to instill loving discipline to Black youths.
60 Minutes (Sunday, 7:30/6:30c, 7/PT, CBS): In wide-ranging reports, Scott Pelley returns to the war-ravaged Ukrainian town of Bucha, talking to family members of victims found in a mass grave, and Sharyn Alfonsi visits the fishing town of Grimsby in England, where the world's largest offshore wind farm is showing the way as nations face a looming global energy crisis. Closer to home, Jon Wertheim interviews NFL Hall of Famer Deion Sanders, now coaching the HBCU Jackson State University in Mississippi.
Chesapeake Shores (Sunday, 8/7c, Hallmark Channel): In the heartwarming family drama's series finale, the O'Briens prepare for Mick (Treat Williams) and Megan (Barbara Niven) to say "I do." Could there be a similar surprise in store for daughter Abby (Meghan Ory) and millionaire Evan (Robert Buckley)?
The Equalizer (Sunday, 8:30/7:30c, 8/PT, CBS): Robyn (Queen Latifah) suspects a widowed mom is being gaslighted when she thinks her late husband is trying to kill her from the great beyond. Guest-star alert: ER's Gloria Reuben plays Trish, a widowed gallery owner who rekindles a spark with Aunt Vi (Lorraine Toussaint).
Step Up (Sunday, 10/9c, Starz): The third season of the musical drama set at a high-stakes Atlanta performing arts school opens with High Water's superstar founder Sage Odom (Ne-Yo) accused of murder, threatening his empire.
The Rookie (Sunday, 10/9c, ABC): That dastardly Rosalind Dyer (Annie Wersching) is back, with Bailey (Jenna Dewan) in danger and Nolan (Nathan Fillion) put in a tight corner.