Ken Jennings or Mayim Bialik? Amy Schneider Reveals Her Favorite 'Jeopardy!' Host
Jeopardy! super-champ Amy Schneider has been talking about her time on the show and more during an online Q&A, including which host she prefers out of Ken Jennings and Mayim Bialik.
Schneider, who won 40 consecutive games on the long-running quiz show from November 2021 to January 2022, took part in a Reddit AMA (Ask Me Anything) on Monday, October 10. During the session, she was candid with her answers, revealing her thoughts on the show and various behind-the-scenes details.
When asked, "Ken or Mayim?" the Jeopardy! all-star firmly answered, "Ken in a landslide. No offense to Mayim, but Ken just *is* Jeopardy in a way that can't easily be replicated."
Another fan asked how she mustered the courage to perform every day despite the high stakes. "Well, I've done a lot of theater, which was super helpful in getting me through the fear of being on stage," Schneider said. "But the main thing was in the weeks leading up to taping, I did a lot of mental preparation. Basically the mantra I was telling myself was 'For those 30 minutes, there is literally nothing more important than playing the game.'"
As for her most formidable opponents during her time on the show, Schneider listed the top three as "Andrew He, Do Park, and Pam Schoenberg."
The former engineer also revealed what she's been up to since bagging $1.3 million after her impressive run. "I've been on something like 30 different plane trips this year, set up an LLC, gotten an agent, hired an assistant to help me keep on top of everything," she said. "My whole goal at this point is to never have a day job again, but just be a writer/public speaker/whatever for the rest of my life. So far, so good!"
She also talked about her excitement for the upcoming Tournament of Champions, writing, "Somebody at the ToC said "More people have been in outer space than have competed in the Jeopardy Tournament of Champions." I haven't verified that statistic, but regardless, there aren't a lot of people who have been through the specific and kind of weird experience of competing in a ToC, and I'm being honest when I say that I consider all the ToC participants as friends at this point."
On a more personal note, one fan asked Schneider how they can help protect trans rights. 'Just be visible, whether as a trans person or as an ally. Speak up at home, at work, at church, at family gatherings. Don't let hateful statements go unchallenged," Schneider stated. "Transphobia only works by painting trans people as 'others,' as different from 'us.'"
As for whether we will see Schneider on Jeopardy! again after the Tournament of Champions, she is keeping an open mind. "I love Jeopardy," she said, "And they've obviously been very good to me. So whatever they might want from me, I will do my best to provide!"
Jeopardy!, Weeknights, Check your local listings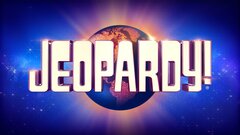 Powered by