Will 'The Voice' Be the Same Without Blake Shelton? (POLL)
The Voice is going to lose its last remaining original coach, Blake Shelton, after Season 23's spring run on NBC.
The news was announced alongside the casting of Niall Horan and Chance the Rapper as Season 23 coaches who will appear alongside Shelton and returning star Kelly Clarkson. Appearing as a coach since the show's 2011 debut, a lot has changed for the music competition series in the years since, particularly on the coach's panel, but one thing has remained the same: Shelton's presence.
The country star has been a constant fixture for more than ten years, remaining long after his fellow original coaches, Christina Aguilera, CeeLo Green, and Adam Levine. It wasn't revealed in the announcement about Shelton's departure whether or not the coach would return in subsequent seasons in the potential future of the show as others have come and gone and returned again such as Clarkson or even his wife Gwen Stefani.
Only time will tell for certain, but Shelton's absence is sure to cause a shift in tone as the country singer provides a certain sense of humor to the show's dynamic. In recent years, The Voice has tended to lean into Shelton's differences with the youngest coaches, such as Season 22's newest recruit Camila Cabello and Season 21's Ariana Grande.
In Shelton's statement about his exit, he said, "This show has changed my life in every way for the better and it will always feel like home to me. It's been a hell of a ride over these 12 years of chair turns and I want to thank everyone at The Voice from NBC, every producer, the writers, musicians, crew, and catering people, you are the best. It takes a lot of work, passion, and adult beverages (Ha!) to pull off a live show twice a week. I've made lifelong bonds with Carson and every single one my fellow coaches over the years, including my wife, Gwen Stefani!"
"I have to give a huge shoutout to the singers – the Voices who come on this stage season after season and amaze us with their talent and a special thanks to those who chose me to be their coach," Shelton added. "Lastly, it's about y'all, the fans, who watch and support these artists, us coaches, and everyone at The Voice chasing their dreams. It wouldn't happen without you!"
Shelton has also guided the most contestants to top prize success over the show's run as eight of his team members have been crowned winners over the years. So, will the show be the same without Blake Shelton or will it be permanently altered once he exits? Let us know what you think in the poll, below.
The Voice, Mondays & Tuesdays, 8/7c, NBC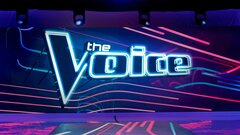 Powered by