'Married at First Sight': Mitch Explains Why He 'Wasn't Married' on Work Trip in First Look (VIDEO)
Married at First Sight Season 15 is racing towards Decision Day and things aren't getting any smoother for Mitch and Krysten in an exclusive sneak peek clip.
Ahead of the episode "Are You My Person?" we have a first look at what the couple's up to and it seems like Mitch is intent on digging himself a deeper hole upon returning home from a work trip. As the pair drive to the ocean with her dog Luna in tow Krysten asks her husband about his time away, saying, "It's good to have you back, we were like, 'it's a little quiet around here.'"
As they muse about their upcoming weekend and hopes they have for a little ocean getaway, Mitch admits that the water might not be great, but that he's a "cup half full kinda guy." Krysten isn't quite convinced as she teases him, "Are you?"
When she says she's not sure about how much time she wants to spend in the water, Mitch admits it's more of a hangover day for him after getting back from his work trip. "What did you do last night to be so hungover?" Krysten quickly questions.
"Well, we had dinner and then we hit the bar and it just happened to be karaoke night. Definitely thought of you," he adds, turning to Krysten. "You'd be proud actually, because I started it off, I got the party jumping."
"Is your ring in the car? Did you lose your ring?" she continues with her line of questioning. "No, it's right here," Mitch reassures, pulling the jewelry from the glove box of the car. "Sorry, I'm married again."
"Were you not married?" she wonders aloud.
"I was to all my close friends that I know, but I was not ready to be married for the whole company. It's just too much," Mitch reveals. What will Krysten think of that response? Find out in the full clip above, and don't miss the latest episode of Married at First Sight on Lifetime.
Married at First Sight, Season 15, Wednesdays, 8/7c, Lifetime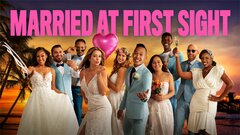 Powered by