Critic's Tribute: How 'Murder, She Wrote' Secured Angela Lansbury's Legacy
She scored her first of three Oscar nominations as a teenager. She went on to conquer Broadway, reaping five Tony Awards in a Broadway career spanning more than five decades. But Angela Lansbury, who died on Oct. 11 at 96, only truly became a cherished household name as a TV star, at a time in life when many would be thinking of retiring.
Nearing 60, Lansbury was an overnight sensation as Murder, She Wrote's uncannily intuitive and adorably sincere amateur sleuth Jessica Fletcher, a role originally designed for All in the Family's Jean Stapleton. The spunky New England widow and mystery writer solved puzzling murders wherever she went, making Murder a blockbuster, against-the-odds hit for CBS, dominating Sunday ratings during a run from 1984-96. She earned 12 consecutive Emmy nominations, never winning, but taking consolation at having won the hearts of America.
Shortly after the series ended production, Lansbury penned her own farewell tribute to her most immortal creation in a TV Guide Magazine essay, thanking her millions of fans. "My dearest wish is that those who enjoyed Jessica's adventures will remember her as I do: an active, mature woman, possessed of courage, independence, and wit, broad-minded and young at heart, a champion of the wrongfully accused."
Many of those attributes applied to Lansbury herself, a show-business survivor who fled the London blitz during World War II with her family at 14, arriving in the U.S. "with nothing, no money at all. I was always forced to manage," she told the magazine in 1992. For years, she was undervalued by Hollywood: "I was always in makeup to play beastly women in their 40s or 50s. My movies were usually stinkers."
Lansbury had better luck on Broadway, proving her box-office potential in hit musicals. She won Tonys as the glamorous socialite in Mame, as overbearing stage mother Mama Rose in the first revival of Gypsy and, in a return to her character-actor roots, as the wacky, murderous Mrs. Lovett in the original production of Stephen Sondheim's Sweeney Todd (later filmed for TV). Generations of kids recognize her voice as Mrs. Potts in Disney's Oscar-winning Beauty and the Beast.
On Murder, She Wrote, Lansbury exercised her clout, eventually becoming an executive producer and championing Jessica's transformation from a dowdy Maine matron into a more sophisticated world traveler (with a New York apartment!) who could never be mistaken for Agatha Christie's spinsterish Miss Marple—whom she once played in 1980's The Mirror Crack'd.
"People didn't want to see me looking frumpy. Women didn't, and neither did men," she said in a 1988 interview. "She discovered that she was attractive and that men paid attention. And why not? Her sense of romance was still in her life and that was very refreshing."
Off set, Lansbury was devoted to her family, including her late husband Peter Shaw, who ran their production company, and son Anthony, who directed many Murder, She Wrote episodes. By the end of its run, the series had become a family affair, securing Lansbury's legacy for all time.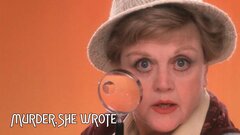 Powered by