'New Amsterdam' Sneak Peek: Max & the Others Disagree About What's an 'Emergency' (VIDEO)
Dr. Max Goodwin (Ryan Eggold) pulls a very Dr. Max Goodwin move in TV Insider's exclusives sneak peek of the October 11 episode of New Amsterdam, and we have to be honest: We love everything about it, from Max's enthusiasm to the response from the rest of the hospital staff.
First of all, Max has everyone worried with a major 9-1-1 page — Is there a mass casualty? Is Veronica (Michelle Forbes) back?! — but no, he just gathers them all and encourages them to "take a nice, deep breath" before revealing why they're there.
"Now that we are nice and relaxed, I have some bad news: You are all in critical condition," he announces. "Morale for doctors is at an all-time low. … Burnout and turnover are at an all-time high, and if it continues at this pace, we're not going to have enough staff to keep the doors open."
The doctors are, of course, annoyed. Bloom (Janet Montgomery) thought it was a real emergency, while Reynolds (Jocko Sims) has surgeries to get to. But Max has other plans for them. As he points out, "your hours are too long, your downtime is too short, and you don't have the mental space to take care of yourselves. And if you can't do that, how are you going to take care of your patients?" Watch the clip above to see more, including the best response from Wilder (Sandra Mae Frank).
In "Heal Thyself," Max mandates a personal health day for the staff at New Amsterdam and meets with surprising resistance. Reynolds finds himself intrigued by a persuasive new member of the staff. Bloom struggles with job stress after being taken off an essential medication. Iggy (Tyler Labine) goes on his first date. Max convinces Wilder to get much-needed surgery.
New Amsterdam, Tuesdays, 10/9c, NBC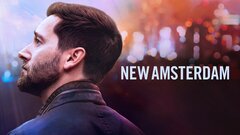 Powered by