What's Worth Watching: 'Top Chef' and Turner Classic Movies' In Memoriam for Thursday, December 29
Top Chef (10/9c, Bravo): In a 75-minute plus-sized episode, this enjoyable veterans-vs-newbies season set in Charleston opens with a harrowing quickfire challenge in which the chef-testants must puzzle their way with a biscuit challenge. And then it's time for classic Southern barbecue, with South Carolina master Rodney Scott overseeing an elimination challenge involving the grilling of a whole hog with multiple side dishes for a BBQ feast attended by 150 hungry guests, including country music star Darius Rucker, a Charleston native.
In Memoriam on TCM (starts at 8/7c): Turner Classic Movies turns the evening over to remembering renowned movie stars who passed away in 2016, with showings of representative films, starting with George Kennedy's Oscar-winning supporting performance in 1967's Cool Hand Luke. Gloria DeHaven, a leading lady of vintage musical-comedies, stars in 1944's Two Girls and a Sailor (10:15/9:15c), and veteran scene-stealer Alan Rickman works his magic in 1995's Sense and Sensibility. Stay up late for Patty Duke's shattering Oscar-winning performance as Helen Keller in 1962's The Miracle Worker (3 am/2c) opposite fellow Oscar winner Anne Bancroft), voice-over singer Marni Nixon doubling for Natalie Wood in 1961 Best Picture Oscar winner West Side Story (5 am/4c), and start your Friday with one of First Lady Nancy Reagan's more notable roles, in 1951's appropriately titled Night Into Morning (7:45 am/6:45c).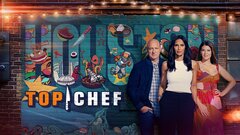 Powered by