Game of Thrones Season 1: Before It Was Big
Winters that last decades. Zombielike creatures called "white walkers." Supersized wolves. A cache of dragon eggs. Game of Thrones, based on the best-selling fantasy novels by George R.R. Martin, is definitely not of this world. But it centers on one of the most familiar things on earth: mighty families vying for ultimate control.
"It's about power," says executive producer Dan Weiss. "Who wants it, why, what they are willing to do to get and keep it — and most of all — what it costs them and their families."
These struggles, told on an epic scale, are nothing new for HBO, which has already successfully combined such elements in series like Rome and Boardwalk Empire. "We knew it was big in scope, but to me that's what premium cable should be about," says president of entertainment Sue Naegle. "So we put every single dollar we could on the screen. It was important to us that we delivered something that had incredible production design and quality, from the costumes to the landscape."
The rugged terrain of Northern Ireland — with more than 20 locations including crumbling castles and windy moors — stands in for the Kingdom of Westeros, where noble clans are on the verge of war. Power won't come cheap for any of them, especially the Starks. Battle-hardened patriarch Lord Eddard "Ned" Stark (Sean Bean) is intent on instilling in his children the importance of honor, loyalty and duty — but these qualities will not always serve him in a land brimming with spies and backstabbers. "He pays a price to save his family," Bean says.
His brood includes devoted wife Catelyn (Michelle Fairley); heir apparent Robb (Richard Madden); lovesick daughter Sansa (Sophie Turner); tomboy Arya (Maisie Williams); adventurous young Bran (Isaac Hempstead-Wright); and illegitimate son Jon Snow (Kit Harington).
They're leading a happy, if austere, life in their ramshackle castle, Winterfell, until Ned's former comrade-in-arms King Robert Baratheon (Mark Addy), a once brave knight-turned-lazy drunk who can barely hold on to the throne, arrives and asks him to become his chief adviser.
"He can't refuse," says Bean, whose real-life friendship with Addy goes back to drama school in London, something which, both actors say, gave authenticity to their scenes. So Ned goes south, to the corrupt and decadent court, where he's pulled into a web of betrayal and lies.
"Ned is dragged right into the firing line," Addy says. Taking aim are Robert's scheming wife, Queen Cersei (Lena Headey), and her twin, Jaime Lannister (Nikolaj Coster-Waldau). "After Episode 1 you will think Jaime is the most evil man alive," teases Coster-Waldau. "He does something so horrendous and wrong."
The first hour also brings at least one beheading, a gruesome encounter with the undead and a seriously taboo coupling.
In this grim world, women can't afford to be damsels in distress. And Ned's wife, Catelyn, is no exception. "She becomes a warrior," says Fairley, huddling by a space heater on set during a blustery, rainy day in Belfast, where the massive production has four soundstages, a costume shop, an armory and even dog kennels. "She wants vengeance for her children, to get her family back together," Fairley says.
There are other battles brewing across the sea, where beautiful Daenerys Targaryen (Emilia Clarke), daughter of the former king, has been exiled. When she marries the leader of a warrior tribe, Robert's advisers fear she will attack. "They believe she's a huge threat. It's ridiculous — she's just a child," Clarke says.
But it's Jon Snow who may face the greatest danger when he sets out to patrol The Wall, a towering icy barrier at the northern border that keeps out the white walkers. "A lot of bad stuff happens to Jon," says Harington, sheltered under a tarp from a downpour drenching the cold, muddy set, his black cloak splattered with grime. "He's quick to snap, his temper rises, his blood boils."
Today, he's steaming. His commanders have put him on a path he neither wants nor anticipates. He stands alone on the snow-streaked ground with only his sword as his ally. But in this world, no one is safe.
As for the show, Naegle is hopeful it will stick around. There are four books (with another on the way) to cull stories from, after all. And unlike True Blood' which veered away from the source material, to some fans' chagrin, Naegle assures that "we're going to be faithful to the books. This storytelling is like a roller coaster. You just get on and go."
This story was originally published April 15, 2011.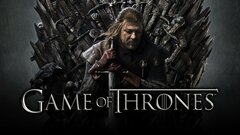 Powered by