UEFA Women's EURO 2022 TV Schedule on ESPN Networks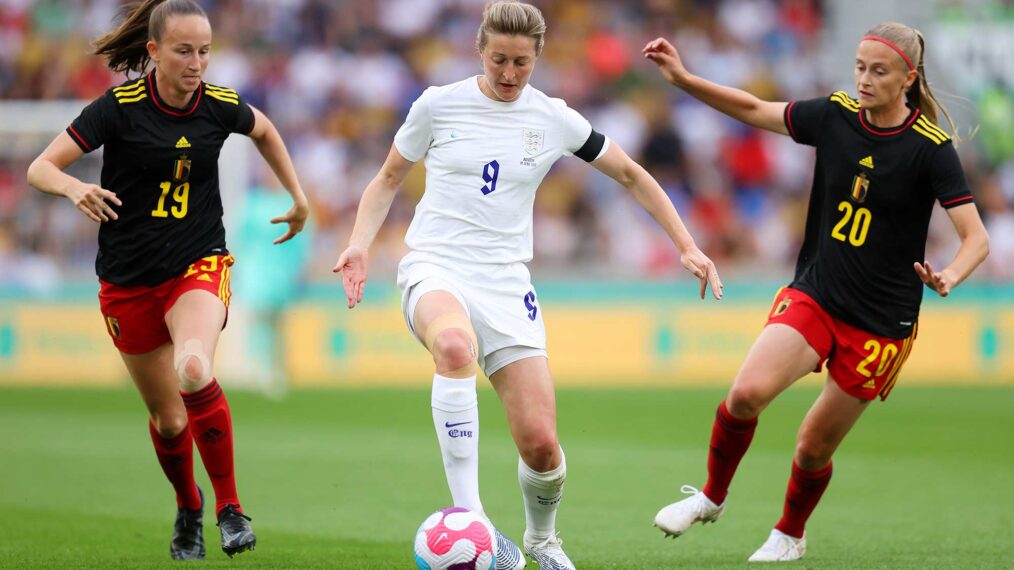 The UEFA Women's EURO 2022, the premier competition for Europe's best national women's teams, kicks off Wednesday, July 6, with host England and star Ellen White (pictured) vs. Austria at Old Trafford Stadium in Manchester, England.
Rescheduled from 2021 due to the COVID-19 pandemic, the Women's EURO features 16 of Europe's elite teams, 12 of which are in the FIFA top 20 rankings.
The 31 matches take place in 10 stadiums in eight English cities. All matches air live across ESPN, ESPN2, ESPN+ and ESPNU.
The championship match is Sunday, July 31, at London's Wembley Stadium.
Top contenders to watch in this year's tournament are Sweden, France, Germany, Netherlands, Spain and England.
The Netherlands are defending champions, having won the 2017 EURO. Germany has won eight of the 12 tournaments held since 1984.
UEFA Women's Euro 2022 Groups
Group A
England
Austria
Norway
Northern Ireland
Group B
Germany
Denmark
Spain
Finland
Group C
Netherlands
Sweden
Portugal
Switzerland
Group D
France
Italy
Belgium
Iceland
UEFA Women's EURO 2022 TV Schedule on ESPN Networks
All Times Eastern
Wednesday, July 6
Match 1: 2:30 p.m. Group A – England vs. Austria, ESPNU/ESPN2
Thursday, July 7
Match 2: 2:30 p.m. Group A – Norway vs. Northern Ireland, ESPN2
Friday, July 8
Match 3: 11:50 a.m. Group B – Spain vs. Finland, ESPN+
Match 4: 2:30 p.m. Group B – Germany vs. Denmark, ESPN2
Saturday, July 9
Match 5: 11:50 a.m. Group C – Portugal vs. Switzerland, ESPN+
Match 6: 2:30 p.m. Group C – Netherlands vs. Sweden, ESPN2
Sunday, July 10
Match 7: 11:30 a.m. Group D – Belgium vs. Iceland, ESPN2
Match 8: 2:50 p.m. Group D – France vs. Italy, ESPN+
Monday, July 11
Match 9: 11:30 a.m. Group A – Austria vs. Northern Ireland, ESPN2
Match 10: 2:30p.m. Group A – England vs. Norway, ESPN2
Tuesday, July 12
Match 11: 11:30 a.m. Group B – Denmark vs. Finland, ESPN2
Match 12: 2:30 p.m. Group B – Germany vs. Spain, ESPN2
Wednesday, July 13
Match 13: 11:30 a.m. Group C – Sweden vs. Switzerland, ESPN2
Match 14: 2:30 p.m. Group C – Netherlands vs. Portugal, ESPN2
Thursday, July 14
Match 15: 11:30 a.m. Group D – Italy vs. Iceland, ESPN2
Match 16: 2:50 p.m. Group D – France vs. Belgium, ESPN+
Friday, July 15
Match 17: 2:30 p.m. Group A – Northern Ireland vs. England, ESPN2
Match 18: 2:30 p.m. Group A – Austria vs. Norway, ESPN+
Saturday, July 16
Match 19: 2:30 p.m. Group B – Finland vs. Germany, ESPN2
Match 20: 2:30 p.m. Group B – Denmark vs. Spain, ESPN+
Sunday, July 17
Match 21: 11:30 a.m. Group C – Switzerland vs. Netherlands, ESPN
Match 22: 11:30 a.m. Group C – Sweden vs. Portugal, ESPN+
Monday, July 18
Match 23: 2:30 p.m. Group D – Iceland vs. France, ESPN2
Match 24: 2:30 p.m. Group D – Italy vs. Belgium, ESPN+
Wednesday, July 20
Match 25: 2:30 p.m. Quarterfinal I – England vs. Spain, ESPN2
Thursday, July 21
Match 26: 2:30 p.m. Quarterfinal II – Germany vs. Austria, ESPN2
Friday, July 22
Match 27: 2:30 p.m. Quarterfinal III – Sweden vs. Belgium, ESPN2
Saturday, July 23
Match 28: 2:30 p.m. Quarterfinal France vs. Netherlands, ESPN2
Tuesday, July 26
Match 29: 2:30 p.m. Semifinal I (W25 vs. W27), ESPN2/ESPN+
Wednesday, July 27
Match 30: 2:30 p.m. Semifinal II (W26 vs. W28), ESPN2/ESPN+
Sunday, July 31
Match 31: 11:30 a.m. Final – Semifinal Winners, ESPN/ESPN+