'Star' Boss Lee Daniels on His New Series About a Girl Group Looking for Fame
Crime does pay. Well, the petty kind, anyway. Empire cocreator Lee Daniels can directly trace the origin of his sizzling new Fox series, Star—about a female hip-hop group trying to make it big in modern-day Atlanta—back to that time in the early 1980s when he stole his mother's Eldorado and drove from Philadelphia to Manhattan to sneak into a Broadway performance of Dreamgirls without a ticket.
"To this day, I still feel the tingle that show gave me—in fact, it's what inspired me to get into this business," says Daniels. "I also came away from Dreamgirls fascinated by girl groups and how the great ones had a life expectancy of two or three years max. Why do they all implode?"
RELATED: Star: First Look at Lenny Kravitz on the New Fox Drama
He searches for answers in Star, which finds wealthy Alexandra (Ryan Destiny, above left), the daughter of a music megastar (Lenny Kravitz), forming a singing group with two girls from the foster-care system whom she meets via social media—hungry-for-fame Star (Jude Demorest, center) and her boozy sister, Simone (Brittany O'Grady, right).
The sibs soon reconnect with their godmother, Miss Carlotta (Queen Latifah), a failed singer who now warbles for the Lord in church, when, that is, she's not running a beauty parlor, fretting over her transgender daughter or brandishing a gun to protect the girls from shady talent impresarios like Jahil Rivera (Benjamin Bratt).
Packed with dazzling musical numbers—some real, some fantasies—Star "explores the quest for success," Daniels says, "but also the cost of getting what you wish for—especially the cost to your soul."
It's a glamorous series, but it also gets down and dirty. "The girls who sing today are overproduced," Daniels states. "They sound perfect. They look perfect. The way the wind machine hits them is perfect. I want to pay tribute to the women I grew up listening to—the women who sweat, who didn't worry about straining their voices, who let their raw, real talent take over."
The show is also highly political, taking on homophobia within the LGBT community and racism among blacks. And it's big on the Holy Spirit—something that's "really been missing from TV," notes Daniels. "I want to hit you in every subliminal way that it's cool to ask for help from your Higher Being. I really want to make it cool to go back to church, to go back to God."
Star, Series premiere, Wednesday, Dec. 14, 9/8c, Fox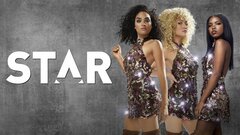 Star
where to stream
Powered by