'Life In Pieces's Colin Hanks on Parenting and Advice From His Dad
While some roles may be far removed from an actor's real life, Colin Hanks has more than enough to draw upon to play youngest son Greg Short on the hit CBS family comedy Life in Pieces. The oldest son of actor Tom Hanks has three siblings and, like his alter ego, is also a parent (Olivia, 5, and Charlotte, 3, with wife Samantha Bryant).
With a busy home and professional life, Hanks, 39, should be able to relate to the December 15 holiday episode when Greg and wife Jen (Zoe Lister-Jones) try to stay awake long enough to have a romantic date night away from their toddler. Here, Hanks shares his thoughts on directing, the advice he got from his dad when he was starting out and why he doesn't recommend having a career Plan B.
Life in Pieces doesn't often go the serious route, but the season premiere dealt with Jen's miscarriage. What was your reaction to that story?
I think it's one of our strongest episodes. I'm really proud that our show was able to handle a difficult subject that is not often addressed on television, much less a family comedy.
With the show's four-story structure, the cast is often split. How is it to film the big family scenes with everyone there?
Those family days are a lot of fun. But it can be a challenge shooting a scene with over 12 people, and they can be rather long days. There have been a couple of times where we should have loudly clapped and said, "OK, let's focus and get this done!" As nice as it is spending all this time with my fake family here, I do have a real family that I'm trying to get back to!
Greg is the youngest of three siblings; you're the oldest of four. Do you relate to your TV family?
It's all stuff that you can relate to. Even if you're an only child, I guarantee there are some Thanksgiving dinners or Passovers or any kind of family gathering in which you're dealing with crazy extended family. The thing that I love the most about the show is this idea that each familial unit has their own way of looking at things, and when you bring the whole family together, all hell breaks loose in some way.
RELATED: Life In Pieces Drafts NFL Great Kurt Warner For Football-Themed Episode
You have two kids at home, and Greg and Jen will hopefully try again to have more down the line. How is that second child different from the first?
With a second child, you're not living in a constant state of fear. That doesn't necessarily mean that it's not still difficult because now you're running a man-to-man defense as opposed to two-on-one. Each kid has their own quirks and traits. I think more than anything else we just realized we knew what we were doing to a degree and we were a little bit more relaxed the second go-round. You just have to jump off the cliff.
You directed the documentary All Things Must Pass: The Rise and Fall of Tower Records last year. Does the actor side of your brain work apart or with the directing side?
I definitely see them working together. I think [my experience directing] has made me a much more aware actor in terms of how to help bring a scene to life, how to contribute. I'm not looking for the path of least resistance but to really understand that there is a very large machine there. That has been the biggest lesson.
Your first acting job was the 1996 film That Thing You Do!, which your dad directed. Did you learn anything from him back then?
Yeah—they're gonna cut you. Your scene doesn't matter. It's all in the service of [the project], so prepare to get cut.
Has there been any advice-sharing along the years between the two of you?
I've been doing this for so long now that there's no real advice aside from what he told me very early on, which is show up on time, have your lines memorized and prepare to work.
Here's an exclusive clip from this week's episode that shows Joan playing a prank on one of her kids. Also, note Greg's new beard which, in another story in the episode, he has grown much to wife Jen's chagrin:
You've also acted in dramas, like the first season of Fargo. What was that experience like?
I've been in Mad Men and Dexter, so the drama element of it was not new to me. More than anything else, I think it was the fact that it was such a well-written show. They tell you that they're going to make a TV show of Fargo and your first instinct is to go, "Why? Don'tdo that. The movie is fine the way that it is." But after reading Noah [Hawley's] first script, it was just so evident that it was just functioning on a completely other level of storytelling that, in my opinion, pushed the medium and how you tell stories on television.
RELATED: Life In Pieces: John's Stuck In A Nursing Home…and Loves It (VIDEO)
What's your go-to show to watch?
I've been having a really hard time keeping up on stuff. If I'm not watching something that my kids have already decided to watch, I'm probably just going to watch SportsCenter or the news.
Was a career in TV and film always your path? Did you have a Plan B?
Oh, no. Don't have a Plan B, because if you have a Plan B, then Plan A is probably going to fall apart. I never looked at acting as Plan A or Plan B. Really, it was just more about trying to engage myself and keep myself interested and do what felt fun and what felt right. At the end of the day, I sure as hell don't want to do anything that's not fun. I don't want to go through motions. I don't want to just do something because it's expected of me. I think that's a horrible way to go about your life.
Life in Pieces, Thursdays, 9:30/8:30c, CBS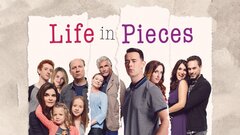 Powered by