'Chicago Fire' Celebrates 100th Episode With Emotional Fall Finale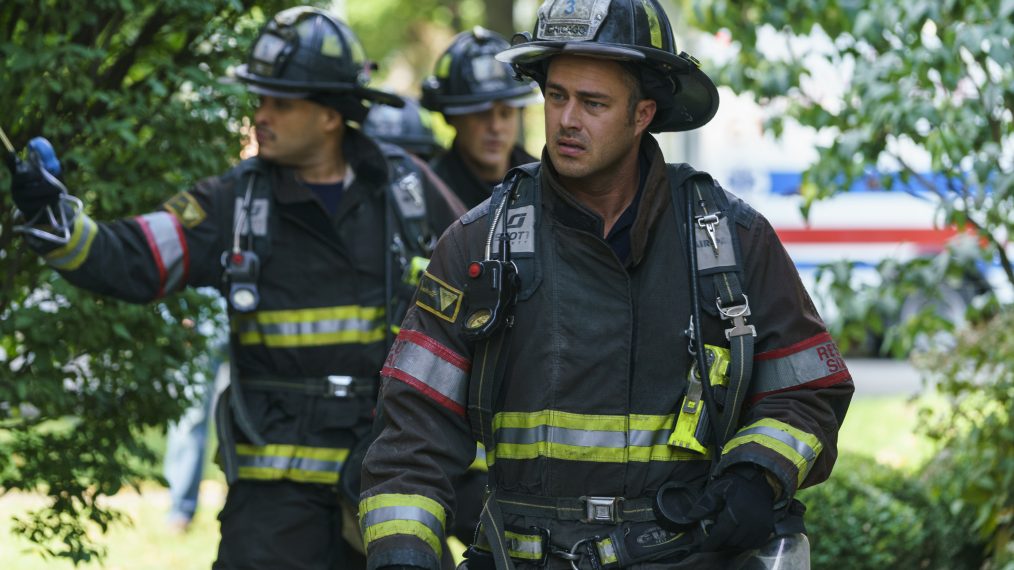 There's a double meaning in the title of Chicago Fire's December 6 fall finale. On screen, "One Hundred" celebrates the centenary of Molly's, the watering hole favored by the drama's first responders. In real life, it honors the 100th episode of the hit firefighting series that kicked off Dick Wolf's wildly popular Windy City franchise and helped a faltering NBC five years ago.
The reasons Chicago Fire is enjoying its fifth successful season and is currently the network's second-highest-rated scripted show (behind This Is Us) are obvious: the inspiring stories of heroism, the unbreakable ties among the brothers and sisters of Firehouse 51—and, of course, the cast chemistry.
Watch an exclusive clip from the 100th episode:


That affection is in evidence on this mild October day outside a corner Chicago bar that sometimes doubles for Molly's. The actors are gossiping, taking photos with a young cop's mom, entertaining the 2-year-old daughter of David Eigenberg, who plays the lovable Christopher Herrmann, and coaxing a visiting reporter to climb into a 25-year-old fire engine to check out how hot and cramped the cabin gets.
It helps that the producers won't tolerate divas. "We have a really great cast," gushes executive producer Derek Haas. "A lot of people come and go, and that can be difficult, but our core group is still here."
RELATED: Chicago Fire: Intense Challenges for Firehouse 51 in Season 5
Which makes hitting 100 extra special for the close-knit troupe. "To be honest, the milestone hasn't hit me yet," says Taylor Kinney, who plays house hunk Lt. Kelly Severide. "You're crossing your fingers and working your ass off, first to get a full season, then a pickup for Season 2. Five years later, it feels like we're the patriarchs of a growing family, and I'm proud to be a part of it."
Even self-described "pessimist" Jesse Spencer, who portrays Lt. Matt Casey, echoes the sentiment. "I was worried about how we could keep doing these ginormous rescue scenes every week," he says, "but so many episodes later, here we are. We're all still really stoked."
So is the network. Chicago Fire has already spun off two hit series, Chicago P.D. and Chicago Med, and will launch a third in early 2017 called Chicago Justice. All fall under the brand "Chicago One" that joins the shows and their characters into a web of connected stories. That's led to lots of visits to the hospital from the members of 51, a marriage—Fire's Mouch (Christian Stolte) to P.D.'s Sgt. Platt (Amy Morton)—and a new romance between Fire paramedic Sylvie Brett (Kara Killmer) and P.D.'s Det. Antonio Dawson (Jon Seda), who'll soon be moving to Justice. "Sylvie's had a bad run!" says Killmer. "So I like this pairing, and Jon's great. I hope [the writers] let it go for a while."
Much of "One Hundred" centers on rescues, but not only from fires. First up: Molly's. The house's truck driver, Otis (Yuri Sardarov), figures throwing a well-publicized 100th anniversary bash would lure more customers to the eternally cash-strapped bar he owns with Herrmann and Antonio's sister, paramedic Gabby Dawson (Monica Raymund). Of course, there's a hitch. A reporter discovers that a gruesome gangland crime was committed years ago when the bar was a speakeasy. "You don't want to dig too deep into this town, or you might dig up some bodies," Haas jokes.
For Severide, salvation may come in an unexpected way. After years of hard partying, he feels a void in his life, prompted by Casey and Gabby starting a family. He decides to take a furlough when he's asked to donate bone marrow to help save a dying young woman. "He realizes the idea of helping someone during his time off might be more beneficial to the soul than going on a fishing trip," Kinney reveals.
RELATED: Chicago Fire: First Look at Dawson and Casey's Near Miss
And finally, when it seems Casey and Gabby are clear to adopt their foster kid, Louie (Aiden and Austin Cohen)—in a heart-tugging scene, the toddler calls Casey "Daddy" for the first time—something major happens that could wreck their plans. "You'll find out what in the last 30 seconds of the episode," teases Haas.
The ramifications of all these storylines will be revealed when the show returns in 2017. "We modeled our show after ER and we feel that it will be breathing as long as viewers show up," says Haas, "because every time the firehouse bell rings, there's something new going on."
Chicago Fire, Tuesdays, 10/9c, NBC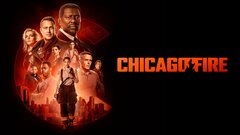 Powered by