'Julia': Sarah Lancashire, David Hyde Pierce & Bebe Neuwirth Whet Our Appetites (VIDEO)
HBO Max's new series Julia is a delicious treat.
The frothy but never-frivolous bio-series starring the dazzlingly charming Sarah Lancashire (Happy Valley) as the culinary icon Julia Child hits like a four-course meal. You get an early taste of Child's affable appeal and her marriage to supportive husband Paul (the great David Hyde Pierce) before the story really starts cookin' with her rise to fame with PBS's The French Chef.
Along the way, we meet a cast of characters who fall as much in love with Julia as her viewers did then and, we assume, will now as well. "I was seduced by her personality in the same way that other people were," agrees the Emmy-worthy Lancashire, who gets tremendous support from Fran Kranz as her first producer, Russell Morash; Brittany Bradford, who plays Morash's assistant (and is a composite of several underrepresented women and people of color working behind-the-scenes); and Fiona Glascott, who sparks as her gutsy cookbook editor, Judith Jone. "When she started The French Chef, she arrived in her 50s and she was a very well-traveled, rounded and secure individual," Lancashire says. And she makes a mean omelet on the fly!
We recently chatted with Lancashire and former Frasier colleagues Hyde Pierce and Bebe Neuwirth, who appears as Julia's bestie Avis, about immersing themselves in a world where the joy of living and cooking are baked right in. In addition, the actors offered us their takes on the roles they filled in the show and why Julia Child—the person, more so than even the personality—still hits the spot with so many people.
Julia, Series Premiere (three episodes), Thursday, March 31, HBO Max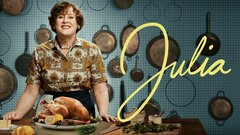 Powered by