'Bold and the Beautiful' Boss Bradley Bell on 35 Years of the Daytime Drama
The Bold and the Beautiful is celebrating its 35th anniversary! The show debuted on March 23, 1987, introducing soap opera viewers to the Forrester, Logan, and Spencer clans set against the glamorous world of high couture. Today, those same families and other assorted friends and foes populate the B&B canvas. Three constants for the international hit series are original cast members Katherine Kelly Lang (Brooke) and John McCook (Eric), and Bradley Bell, who serves as the show's head writer/executive producer.
The soap's actual anniversary show is set to air March 24. It focuses on Lang's Brooke, who is facing an emotional crossroads as her marriage to true love Ridge (Thorsten Kaye) is on the rocks following her drunken New Year's Eve (sex-free) overnighter with ex-love Deacon (Sean Kanan). Viewers know that Sheila (Kimberlin Brown) drugged Brooke, but doesn't the B&B heroine bear some of the responsibility regardless? TV Insider chats with Bell about this, the show's anniversary, a potential name change for Steffy (Jacqueline MacInnes Wood), and much more.
Thirty-five years! When did this happen?
Bradley Bell: It's incredible!
It feels very organic to have a Brooke-centric episode timed to the milestone, given what's going on in her life.
Yes. Kelly is our Tom Brady. She's been our quarterback, the go-to person. Brooke's been in more episodes than any other character. She's our leading lady since Day 1. We wanted to honor both Brooke and Katherine Kelly Lang with this special episode. She reflects back on all the men she's loved before. It was a great opportunity to have Winsor [Harmon, Thorne] and Jack [Wagner, Nick] back and play footage from all over the world with Don Diamont [Bill].
So, there will be flashbacks?
There will be some, yes. It'll be a little bit of "the Best of Brooke."
What is it about Katherine where Brooke can do all these things —like having accidental sex with her daughter's boyfriend, have a baby with another daughter's ex-husband—and be forgiven? Do Lang's acting choices and performances inspire the writing and vice versa?
It all speaks to the core of Kelly: her decency and goodness as a human being, her positive energy, her bright shining light…she is radiant. She can do things and make mistakes. We've written her into corners so many times, but viewers root for her because of her genuine delivery. You can't help but love her.
Sure, Sheila spiked Brooke's New Year's Eve drink, but Ridge had told Brooke many times that Deacon's mere presence will lead to no good. Brooke let Deacon back into her life. How much does Brooke own even though she was drugged?
She does have responsibility. She could have told Deacon to leave or just not allowed it to happen [even though] the alcohol was to blame. There are and always will be latent feelings between Brooke and Deacon. They've tried to keep a lid on that. But, yes, she was a little reckless to let Deacon have such access to her and her home. Brooke grew up without a father; that's a hole in her life that she didn't want her daughter [Hope, played by Annika Noelle] to experience.
Stephanie's (Susan Flannery) been dead for almost a decade. How did her passing affect Brooke's life?
Most of their lives together were contentious. Stephanie kept Brooke in check. Whether Brooke wanted to hear the words or not, Brooke would listen to Stephanie and she respected her. As tough as she could be, Stephanie was someone Brooke loved.
Recently Steffy, Stephanie's granddaughter, went over to Brooke and blasted her. It was a throwback of sorts to those great Stephanie/Brooke scenes.
With the return of Taylor [played by Krista Allen] we're back to #TeamTaylor, and Steffy and Thomas [played by Matthew Atkinson] and that family against #TeamBrooke with Hope and the kids. Stephanie favored Taylor, who led with her intellect and was [more] demure and proper.
She was not—as Stephanie called Brooke— a "slut from the valley!"
[Laughs] Yes. Brooke leads with her emotions. The world is divided into these two camps. Neither [she nor Taylor] were wrong, but you'd choose one and root for one. Would Stephanie today support her namesake and Taylor, or would she support Brooke? That's something we may never know.
Could you ever see Steffy start going by the name Stephanie?
I think so. She certainly could. Good idea.
You're not active on social media, but do you keep tabs on what fans are saying?
Yes. I do go online—I won't say where—but I go to some places and I enjoy the feedback. I've always been one to read the fan mail and I do go online.
Is snail mail still a factor?
It's very small, but at the same time it must mean a lot for someone to take the time to sit down, write a letter, and mail it.
B&B has addressed homelessness, opioid addiction, breast cancer…so many issues. Are there any others you'd like to tackle?
Yes. There are a list of them. There is so much going on in the world. Priorities are changing given the climate we're living in. We are considering tackling some social issues.
I hear soaps do well on streaming services. Peacock has streamed original Days of Our Lives programming. Are there discussions about providing original B&B content for Paramount+?
Yes. We've had conversations with CBS and Paramount+. That's something we've been considering. We're not in production just yet. I'm sure the day will come when we do something specifically for streaming.
The Bold and the Beautiful, Weekdays, CBS, check local listings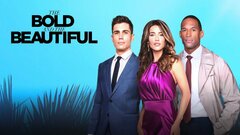 Powered by