'The Price Is Right' Announces 'Come on Down' National Tour Celebrating 50th Anniversary
America, come on down. The Price Is Right is going on tour to celebrate its 50th anniversary. The Price Is Right "Come On Down Tour" will kick off at Los Angeles' Santa Monica Pier on Friday, March 25, before embarking on a 50-state tour, bringing the longest-running game show in TV history all across America.
The tour launch will be a one-day event open to the public from 12 pm to 7:30 pm. Host Drew Carey, George Gray (the voice of The Price Is Right who says "Come On Down" every episode), and model Alexis Gaube will attend the event, which will feature the Santa Monica Pier's Ferris wheel being converted into a giant The Price is Right wheel to be lit up at dusk.
Prizes for fans at the launch event include gift cards to local businesses, like The Comedy Store, and ride tickets for the Ferris wheel. The national tour will also feature chances to win a grand prize of $50,000 for participants in specific cities.
"In celebration of 50 golden seasons, The Price is Right is taking America's most beloved game show across the country and encouraging everyone to 'Come On Down' for a national tour, complete with a mobile game show on wheels with groovy '70s style bus (honoring when the show began in 1972), fun photo opps and to spin the wheel, play Plinko, and participate in Showcase Showdown to win money and prizes," a statement announcing the anniversary tour said.
The tour will take place from March 25 to May 18, "stopping at 50 of America's most iconic locations." Fans from Los Angeles, Denver, Dallas, New Orleans, Nashville, St. Louis, Cleveland, and New York City can play interactive games for prizes benefitting local businesses "whose history is deeply tied to 1972" and the $50,000 grand prize. Fans can follow @TheRealPriceIsRight for location updates.
Here are the "Come On Down Tour" special stops dates:
Los Angeles, California — Friday, March 25
Denver, Colorado — Friday, April 1
Dallas, Texas — Thursday, April 7
New Orleans, Louisiana — Friday, April 15
Nashville, Tennessee — Friday, April 22
St. Louis, Missouri — Thursday, April 28
Cleveland, Ohio — Friday, May 6
New York, New York — Wednesday, May 18
All guests must show proof of COVID-19 vaccination.
The Price Is Right 50th Anniversary Special debuted September 30, 2021 on CBS. The Price Is Right series premiere aired September 2, 1972.
The Price Is Right, Weekdays, CBS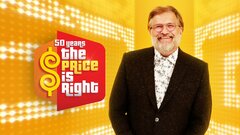 Powered by