'9-1-1' Boss: Maddie & Chimney Reunite 'in an Unexpected Way'
9-1-1 has returned, and we're on the verge of getting the answers we've been waiting for to one simple question: Where has Maddie (Jennifer Love Hewitt) been, and what will happen when Chimney (Kenneth Choi) finds her?
Maddie left earlier in the season out of concern that it wasn't safe for her to be around her and Chimney's daughter. He soon took off after her, despite the message she left, and last we saw him, he was still trying to track her down. That all changes in the March 28 episode, "Boston."
Co-showrunner Kristen Reidel teases what's ahead for Maddie and Chimney and how the season will end.
In "Boston," Chimney's determined to find Maddie amongst the chaos of St. Patrick's Day. What can you tease?
Kristen Reidel: Maddie's been gone for six months, and Chimney has been gone almost as long. A lot of this episode is going to be about how we got to this moment, how we got to Boston and really about Maddie's journey back to health and being ready to come back home and Chimney's sort of desperation to find her. And then fate sort of intervenes.
Will there be flashbacks building up to the present or will we hear more versus see it?
We're gonna see some flashbacks. We're gonna start Maddie where we left her leaving that message for Chimney. We start there and then quickly go through time and find her in the present on St Patrick's Day. And then obviously Chimney is also in Boston looking for her and the two of them will end up finding each other in an unexpected way.
What can you say about their relationship going forward? It might be a good idea for them to go to therapy.
Maddie's definitely in therapy. Chimney probably should be. But a big part of the back half of the season is that relationship and how you salvage it because the reality is they were apart for six months and not just apart, but he didn't know where she was. That causes some complications in their feelings for each other, and it's gonna take a minute for them to figure out what the path forward is for them.
What's coming off for both of them work-wise? I assume Chimney will have his job whenever he comes back, but Maddie wasn't working last we saw.
Correct. Chimney is gonna go back to the 118 sooner rather than later. But for Maddie, it's gonna take her a little bit of time to be ready to deal with other people's emergencies because she's coming out of just having dealt with her own. We will see her back at that phone at some point this season.
I want to see her and May (Corinne Massiah) working together.
Yes. We'll see some interesting pairings in the call center late in the season.
I love that you're keeping Hen (Aisha Hinds) and Chimney's friendship alive, even in his absence, but what's coming up once he returns? Will he lean on Hen with everything that's going on with Maddie?
At first we're gonna see Hen and Chimney back the way that we're used to seeing them and how much we've missed them. But there is an episode coming up late in the season that will really be about Hen and Chimney as a team working together, and I'm really excited about it.
Angela Bassett (who plays Athena Grant) guest starred on Lone Star. Are there any other crossovers coming up that you can tease?
I don't know. There won't be a full crossover the season like we had last two years ago. The schedule just will not allow it, but we have talked about, is there something else small, like what we did with Angela that could happen on Lone Star? But that's all TBD.
What else can you preview about the rest of the season? Any crazy calls?
We have a lot of crazy things happening. We'll have a couple little fun things in the Boston episode because it is Boston on St Patrick's Day. But then, going forward, we have an episode about fear which will involve everything you're terrified of — sharks, spiders, things that go bump in the night. We have a really big call center-centric case coming up later in the season. We'll have a big fire. And then we have some kind more fun poppy cases like the Instagram influencer who has an accident live on the internet.
Who will be most affected by a call coming up?
I think that the call center fire is gonna be a really big thing for Bobby [Peter Krause]. He lost one family to fire already and now he's got his surrogate daughter inside the burning building.
Will Bobby and Athena continue to be the stable couple on the show?
Yes. We have some stuff planned for them going forward in the back half, but I think for right now, everything they've been through in the first half of the season, they probably needed to take a little bit of a breather.
Will you be putting Athena through anything crazy at work?
No, we're just gonna have some fun with Athena in the back half. It feels like she could use it.
You're also heading towards the season finale. Is there anything you can tease about that?
There are going to be some big shifts in the finale. We're calling it "Starting Over" and it's sort of the idea of this has been a season of a lot of change and uncertainty and the team kind of falling apart. And so the hope by the end of the season is to kind of bring everybody to a great place to start over, whether it's Eddie or Maddie, Hen and Karen [Tracie Thoms], but just kind of the idea of after a really crazy year of having a fresh start.
Will we see Albert (John Harlan Kim) anytime soon?
The hope is yes. We definitely will see him in the back half of the season in a couple of episodes. Unfortunately for us, John Harlan Kim is a very talented actor who people want to hire for all of their shows. And so we've had scheduling challenges there.
9-1-1, Mondays, 8/7c, Fox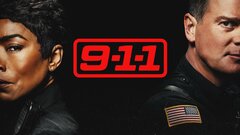 9-1-1
where to stream
Powered by