Derek Hough & Jenna Dewan on Getting 'Saturday Night Fever' for 'Step Into…The Movies'
Derek and Julianne Hough, TV's most entertaining siblings since Donny and Marie Osmond, are putting their own spin on Dancing With the Stars' "Movie Night" this Sunday with Step Into…The Movies with Derek and Julianne Hough.
The one-hour special pairs the former DWTS pros with a group of guest stars including Jenna Dewan (The Rookie), Kevin Bacon, Charli D'Amelio, Amber Riley, John Stamos and others as they recreate and pay tribute to classic dance scenes from such memorable films as Saturday Night Fever, Footloose, Singin' in the Rain, Moulin Rouge, Beauty and the Beast, Chicago, Dirty Dancing, and La La Land. As in the best dance numbers, the timing turned out to be just right.
"It's funny," Hough tells TV Insider. "Julianne and I had this idea for a while in different forms and concepts, and then ABC said to us, 'The Oscars are coming up. This is a perfect time. Can you put this show together in about ten days?' That became a narrative throughout the whole show."
"The reimagining of the dances is what I really found enticing about this special," Dewan adds. "You can sit on the sofa with your whole family and watch this."
One big challenge — beyond the deadline — was how exactly to recreate these iconic movie moves. "Some of the dances are closer to the originals and some are complete departures," Hough previews. "However, there will always be a nod, a tip of the hat, and a respect shown to the original."
While the Hough siblings dance together, they'll also be tripping the light fantastic along with the show's guests. Derek Hough and Dewan will pay tribute to, respectively, the characters of Tony Manero (John Travolta) and Stephanie Mangano (Karen Lynn Gorney) from Saturday Night Fever. While Travolta's Tony was the main star of the film, Hough and Dewan's version showcases them both, with Hough offering his particular well-known skills.
"We just turned it up a little," says Dewan. "The [movie] was more about Tony but we created it to be a woman in power as well and her being a bit of a seductress. Derek is amazing. I've known him throughout the years and he's always been this bright light. He needs to come out with his own energy drink. He's like the Energizer Bunny!"
"That movie was magical," Hough says of the disco dancing extravaganza that earned Travolta an Oscar nomination. "It was one of the first films that used a steadicam," he says of Tony and Stephanie's final dance in the 1977 classic, with the camera circling the couple intimately.
Hough also credits Footloose as a feature that influenced him as a dancer. "That was shot close to where I live," he says, noting anti-dance characters in the film mirrored people in his own life. "'There will be no pelvic thrusts in this house, young man!'" the DWTS judge chuckles. "Now, I do it for a living!"
For Hough, one great joy of doing the special was learning new things about these famous dance films. Kenny Ortega, who choreographed Jennifer Grey (Baby) and the late Patrick Swayze (Johnny) in Dirty Dancing, says the couple's show-stopping dance in the finale wasn't originally set to the Oscar-winning tune, "(I've Had) The Time of My Life." "They shot that scene with a completely different track," Hough reveals. "I was like, 'No way! That's crazy!'"
Get an exclusive sneak peek at Julianne Hough and Harry Shum Jr.'s Beauty and the Beast-inspired performance from Sunday's special below, and be sure to tune in at 10/9c!
Step Into…The Movies With Derek and Julianne Hough, Sunday, March 20, 10/9c, ABC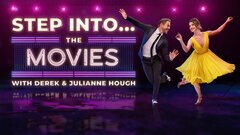 Powered by