Keith Olbermann Addresses Rachel Maddow Beef and MSNBC Controversy
Longtime news personality Keith Olbermann has shared his perspective on the recent reports that MSNBC almost brought him back to replace news anchor Rachel Maddow.
It was reported by The Daily Beast on Wednesday that MSNBC wanted Olbermann to return to host a show that would air in the time slot currently occupied by The Rachel Maddow Show. According to the publication, Maddow, who will be moving from a nightly show to a weekly show later this year, apparently vetoed the Olbermann deal.
Olbermann reacted to the report on Thursday afternoon in a 21-post Twitter thread. He spoke of the 11-year long push-and-pull between himself and MSNBC as the news network attempted to lure him back. Olbermann had hosted a popular weeknight political commentary program Countdown on the channel from March 2003 to January 2011, after which his contract was terminated.
A thread about returning to MSNBC.

A) I'm not
B) Yes, there were talks
C) Yes, they were serious
D) Yes, NBC lied through its teeth denying them
E) Yes, NBC blamed the talks' failure on @Maddow
F) I left in Jan. 2011. Comcast first reached out about my returning in…Sep. 2011🤷

— Keith Olbermann (@KeithOlbermann) March 17, 2022
While NBC told Variety that there was "never any serious consideration of Keith Olbermann returning," the renowned sports journalist claimed that "there were talks" and "they were serious," but said that NBC "lied through its teeth denying them."
"Dinners scheduled and postponed by the pandemic. Breakfasts with the new news guy, same," Olbermann wrote. "2 sets of agents talking. And then Maddow announced she'd be sunsetting her nightly show, and then came the idea I might succeed her (or even fill-in)…"
Olbermann also addressed his beef with Maddow, noting that it was NBC that blamed everything falling through on her. However, he admitted that "Incidentally I probably started the disharmony [with Maddow] with some dumb strategic moves when I took 'Countdown' to Current TV. But I never did anything like this s***," referencing ex-MSNBC boss Phil Griffin and his opposition to bringing Maddow to MSNBC when she first began appearing on Countdown in 2008.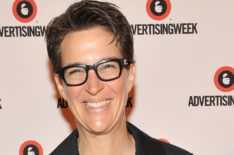 See Also
The long-serving host will remain with NBCUniversal for several more years.
He also claimed that MSNBC first approached him to come back to the network in September 2011, just 8 months after he'd departed. And that there was a further attempt in 2016, when former NBC News chairman Andy Lack wanted Olbermann to do a 10 PM show with a "conservative co-host." Olbermann turned down the idea.