'Minx': How the '70s-Set Comedy Shines a Light on Relevant Issues
HBO Max's Minx may be set in the 1970s, but the issues this comedy is tackling are still very relevant in today's world.
Set around Ophelia Lovibond's Joyce, Minx follows this feminist reporter's journey to have her dream magazine published, and things don't go as planned. When she meets Jake Johnson's Doug, he offers her a business card and invites her to publish. The catch? Doug is an erotic magazine publisher who is inspired by Joyce to repurpose the format to fit her message by making a female-leaning publication aptly titled Minx.
"I was inspired by the real magazines of this era, the real women's erotic magazines of this era," creator Ellen Rapoport tells TV Insider. "What I thought was so interesting about them, is that they actually were workplaces, that were populated by feminists and pornographers, which seemed to me just insane group of people to be working together."
It's definitely an interesting combo and Joyce and Doug make for an unusual team and while at times they're contentious in their views of what Minx should be, they ultimately share a similar goal. "If you read enough of these," Rapoport says of the old magazines that inspired her, "you see that even though these were published 50 years ago, the issues that they were talking about are still issues that we're dealing with today."
Among some of those issues are birth control, self-love, and gender dynamics, something that makes a splash within the pages of Minx alongside centerfold spreads which was a process in and of itself for Rapoport. In the first episode, the Minx team holds an audition process for their centerfold and it takes seeing a lot of prospects before finding the right one.
"Most of the penises in the show are real," Rapoport shares, noting the show's use of male nudity. "There are only four prosthetics in the entire season. And the reason that you have to have prosthetics is because penises are unpredictable, they can change from shot to shot," she adds. What is prosthetic and what isn't, we'll let viewers decide, but the show isn't all about nakedness. It's a layered story with complex characters, the nudity is just an aspect to the industry they're inhabiting.
"It immediately becomes completely sterile as far as titillation goes," remarks series executive producer Paul Feig. "Like, everybody's naked, they're leaning against desks smoking completely nude, but it's not at all titillating." Instead, it's the dynamics between the characters which take centerstage, primarily the relationship between Joyce and Doug, which may surprise viewers to find out, is not really romantic.
"It was important to me and it was also very important to Jake that these characters not have chemistry," Rapoport says of herself and series star Johnson. "It's a business relationship first and foremost, and I just think that's a more interesting thing to explore." Having seen a lot of will-they-won't-they scenarios onscreen, the showrunner was more curious to explore a platonic work partnership.
"You spend most of your time at work and the work friendships that you make, the mentorships or the business partnerships are in some ways much more interesting than your romantic relationships," continues Rapoport. Thankfully, Lovibond and Johnson perfectly sell the butting-heads relationship with finesse, something that Feig had total faith in upon casting.
See Also
The series centers around a ragtag team of people working to publish a feminist magazine disguised as an erotic publication.
While he says Lovibond's "amazing" it was the character of Doug who would be most challenging to sell, considering he's gruff at times and brutally honest in ways that Joyce doesn't always appreciate. "Jake Johnson took a very difficult role," Feig notes. "I mean, that role could go off the rails in so many different ways, and he didn't play it at all sleazy or predatory or gross."
If any Jake Johnson fans know by now, he can sell almost any role, which parallels Doug's desire to sell Joyce's concept but wrapped up in something he compares to the peanut butter on a dog's medicine — it's more palatable. And ultimately, even if porn or erotica isn't necessarily your "thing" the story has a lot of heart and an uplifting tone. "As long as the end result is you go, 'I feel better about things,'" Feig says, "then mission accomplished."
See how an unlikely team, a seemingly contradictory concept, and lessons come together as Minx streams on HBO Max.
Minx, Streaming Now, New Episodes, Thursdays, HBO Max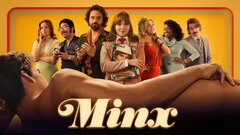 Minx
where to stream
Powered by