'The Newsreader': Anna Torv on Why Helen & Dale's Relationship Is 'Easy'
If you want to go inside a newsroom, you don't want to miss Australia's award-winning drama, The Newsreader, coming to the U.S. via the Roku Channel (Friday, March 18).
The series follows glamorous, talented, and overlooked (in the chauvinistic world of TV news) newsreader Helen Norville (Anna Torv) and junior reporter Dale Jennings (Sam Reid) and their personal relationship as well as the public pressures of reporting some of the most iconic news stories of 1986.
"I love the way it ended," Torv tells TV Insider. "We just didn't know how it was going to end for actually a long time. Michael [Lucas] would write and we'd talk and he'd write and write. There was a whole lot of different variations. We knew [what] we were moving towards, but we didn't know what it was going to be. And when we got there, it was like, 'Oh, that's just right.'"
Torv previews the series.
Introduce Helen. Where is she in her career when we first meet her?
Anna Torv: Helen's doing pretty well. She's top of the food chain, as far as wanting to be on the desk. She's the nightly newsreader next to Geoff [Robert Taylor], but I think where we are in the world and where we are in what's happening with the news — and that's what was happening then — it was just this real straddle. It was this real shift starting to happen where news was no longer the very straight, white man talking very, very soberly about what was going on. Women started to sit at the desk and they started to share stories and also the news became a little bit more geared to entertainment. And so I think she's pretty representative of that. Even though she wants to be taken seriously, that's kind of where the news was moving.
What's the work atmosphere like for her?
What Michael Lucas has done with the script, but also really particularly Emma Freeman who directed all of the episodes, and to an extent us the actors, we all very, very much wanted this to feel of the era, not be a comment on, like a period piece, if that makes sense. To kind of present not just the work environment, but also the people, all the issues that the people have as is, to keep an element of ambiguity in it. And to not look at it with a modern-day gaze, for that gaze to be up to the viewer, for us not to be banging people over the head with "look what it was like back then" [and] instead to just to go, "here's the show, this is stuff that happened."
One of my favorite scenes actually with William McInnes who plays Lindsay, her boss, is when he brings her home. She's had a breakdown. There's so many elements to it. She's had a breakdown at work and then he brings her home. And we worked on that scene, and one of the things that we just kept coming back to — and I think we really did succeed, I'm really proud of it — is that we make no comment, which today, if you put something like that on you couldn't do that without there being repercussions. You couldn't do it without there being some kind of conversation about what's happened, what's this, but it was the '80s and there wasn't, and that was just how it was. You've clearly got a woman who's clearly not coping and no one gives a s**t. And then you've got a situation that really obviously has happened before. And it's not talked about, and I think that's the comment.
There's the junior reporter in Dale. Talk about that relationship, the professional and the personal aspect of it, for Helen.
It's Dale's story, to be honest, and Sam Reid is just an exceptionally beautiful actor, but also a really, really beautiful person. I hadn't met him before, so when we first met, you never quite know how it's gonna be. We happened to really get along, and we also happened to work in a really similar way, but we also happened to have the same ideas about things. And so I feel like we both knew what we wanted and we would just keep adding to each other's stuff. That was just a real collaboration. Also, obviously with Emma Freeman who directed it, but we would just try things.
I think what we had off screen, which you don't always get or it doesn't always translate, does translate in that fundamentally Helen and Dale from the very, very, very beginning, it's easy. They're easy together. It's like there's an understanding, there's a respect, and there's just a care between these two people, regardless of what [happens]. The relationship takes turns, how they feel about each other, but at the end of the day, it's just two people that love each other, get each other, care for each other, and essentially make the other person feel safe.
Which story that Helen covers most affects her?
There was quite a lot of comment about Geoff's away and she gets called in to go and cover the Challenger explosion. And she does it and she's a pro and she does it really well. It's a pretty harrowing story. Everybody died and people are standing there watching and parents and daughter are sitting there and actually watch it happen. It's not lovely. And so she does the story and she's incredibly empathetic because I think she is empathetic as a person. Then the story ends and she gets up and I didn't even think about it — in my mind, obviously I'm playing Helen — I get up and I'm like, "Woohoo!" like, "Yay, that was great."
There were some conversations about whether that shouldn't have been the reaction and you're like, "Yes, because that's what it is like, that's the reaction." It doesn't mean she doesn't care, but you can't let go of the journalist and you can't let go of the ambition in a person that gets to the desk, that has come up and learned how to be comfortable and confident sticking a microphone in someone's face and asking the tough questions. That's the gig on top of the other stuff. I've played a couple of journalists, one print and one TV, but one of the things that all of the people I've spoken to about it or when you go into a newsroom, the frenetic kind of energy, and particularly when there's a real story about to go, it's intense, but in a good way. I don't know if that's the story that affects her the most, but I do remember that.
Who is Helen away from work?
I don't even know how to answer that. Who are any of us away from work? Who are any of us without the amalgamation of everything that we do and everything that we see and the people that we talk to and all that kind of stuff? I think Helen is, more than anyone else I've played, primarily reactionary. Maybe it doesn't seem like that all the time, but she doesn't make s**t up in her head, if that makes sense. There's always a trigger and the trigger's external. She's sensitive, and therefore she's reactionary.
The Newsreader, U.S. Premiere, Friday, March 18, Roku Channel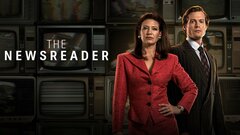 Powered by