'The Masked Singer': McTerrier on on Being Inspired by His Favorite Movies
[Warning: The below contains MAJOR spoilers for The Masked Singer Season 7 Premiere "Masks Back – The Good, The Bad & The Cuddly – Round 1."]
The first five masked celebrities — Thingamabob, McTerrier, Cyclops, Ram, and Firefly — of Season 7 of the Fox hit took the stage in the premiere, and it wasn't smooth sailing for all of them.
McTerrier's mask came off when he had trouble seeing and tripped, while Firefly had to stop her performance and was checked out by a medic before returning to the stage. In the end, it was McTerrier who was eliminated and unmasked — and it was chef and Food Network star Duff Goldman! "I told everybody that if they were judging based on just who was having the most fun, I definitely would have won," he tells TV Insider.
Here, the celebrity opens up about his time on the show.
Talk about getting the call to do The Masked Singer. What made you say yes?
Duff Goldman: I don't know. My whole career, opportunities come up, and I rarely say no. I like new experiences. I am a musician, I'm not a singer though. I've never sung in a band. The only time I've sung is in the shower. I was like, wow this would be a challenge and it looks like a lot of fun. I've watched the show, and it looks hilarious and super fun, so I was like, yeah, let's give it a shot. Let's see what happens.
How did you being the McTerrier come about? Did you have a choice in costumes?
I was thinking about one of my favorite movies is Best in Show, and the winner of Best in Show was a little Norwich terrier named Winky. I wanted to be a winner like Winky, so I wanted to be a terrier.
What'd you think of the costume? Did you have any input?
Not really. They went to town with it. The whole Scottish angle, they just sort of did that, and it was actually kind of fun because then I got to pretend to do a Scottish accent.
Talk about that mask coming off.
I was just trying not to fall off the edge of the stage, and then I was terrified. It's a big drop, it's a good five feet. That would've hurt, so I was just trying not to fall, and then my mask kind of came off. I didn't know what to do. I hid my head, turned around and bent over because I didn't want anyone to see me. I didn't want to ruin the show 'cause if your mask comes off, that's kind of it. I really had no idea what was going on. Most TV shows I do are a lot smaller than a big Fox production, and it was such a huge show, it was a little overwhelming and I didn't want to let everybody down.
What went into your song choice — and playing the drums?
You send a whole bunch of songs and they reject basically all of them because they've either been done before or they can't get the clearance. I just kept going through songs that I know and I was thinking about another one of my favorite movies is Fast Times at Ridgemont High and "Working for the Weekend" [by Loverboy] is the first song you hear. There's so much good music in that movie. I was like, that's a pretty random one-hit wonder from the '80s that people probably haven't done yet but people would also still recognize. It was also in my range.
What'd you think of the panelists' guesses?
I was flattered and honored that they thought I was Travis Barker or Flea or Mike Myers. I pride myself on being a good musician and being funny and so they thought I was either a professional musician or one of the greatest comedians of all time. That was amazing.
See Also
Eric Stonestreet, Nicole Byer & Leslie Jordan are set to appear on show.
Are there any songs you had in mind to perform if you'd continued on?
I wanted to do "All Star" by Smash Mouth. [Sings a bit of it] I was really excited about that one. And also "Country Roads" by John Denver.
What are you going to take away from the entire experience?
I don't know. I made a new friend in Ken Jeong, and we have plans to get out families together and have dinner sometime soon, so if I made a new friend, that's awesome.
The Masked Singer, Wednesdays, 8/7c, Fox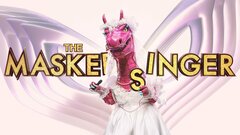 Powered by