'Tehran' Season 2: Apple TV+ Releases Trailer For Glenn Close Spy Thriller (VIDEO)
The second season of Apple TV+'s espionage thriller Tehran is not far away, and the latest teaser suggests even more danger abounds for Mossad agent Tamar Rabinyan (Niv Sultan).
"Now that we're working together, my life depends on the decisions you make," Glenn Close's Marjan Montazeri tells Tamar in the trailer (watch below). This warning is accompanied by shots of explosions, shoot-outs, car chases, and an intense staredown from an Academy Award nominee.
The International Emmy Award-winning series is set to premiere its second season on Friday, May 6, 2022, with the first two episodes. New episodes will follow every Friday during its eight-episode season.
Created by Moshe Zonder, Dana Eden and Maor Kohn, Tehran follows Tamar, a Mossad hacker-agent who infiltrates Tehran under a false identity to help destroy Iran's nuclear reactor. But when her mission falls apart, she must put together a new operation that will place everyone she holds dearest in jeopardy.
In addition to Sultan and Close, the series also stars Homeland alum Shaun Toub, Gangs of London actor Shervin Alenabi, and Legion star Navid Negahban.
Tehran debuted on Israel's Kan public channel in June 2020 before premiering globally on Apple TV+ in September that same year. It's directed by Daniel Syrkin and exec produced by Eden and Shula Spiegel for Donna and Shula Productions, Alon Aranya for Paper Plane Productions, Julien Leroux for Paper Entertainment, Peter Emerson for Cineflix Studios, and Zonder, Shenhar, Syrkin, and Eldad Koblenz for Kan 11.
See Also
Plus, find out when the series is returning to screens.
The first season received critical acclaim and picked up the award for Best Drama at the International Emmy Awards in 2021.
Tehran, Season 2, Premieres, Friday, May 6, 2022, Apple TV+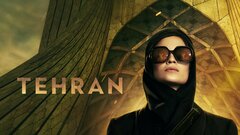 Tehran
where to stream
Powered by