Tony Hawk Shares His Story in HBO Doc 'Until the Wheels Fall Off' (VIDEO)
When you think of skateboarding, you probably think of Tony Hawk. But how did he become one of the sport's most iconic stars? The new HBO documentary Tony Hawk: Until the Wheels Fall Off — which premieres on April 5 — will dive into the pro athlete's journey, from his early days as a skater to becoming "one of the most influential skateboarders of all time."
"Featuring never-before-seen archival footage, the film chronicles Hawk's meteoric rise from awkward teen outsider in the radical sport of the 1980s… to multiple X Games gold medalist, trick innovator, entrepreneur, and 12-time National Skateboard Association world champion," reads the doc's description.
"Dynamically showcasing Hawk's pure joy in skateboarding and his incredible tenacity over 40 years, the documentary probes the complex psyche of a man whose dogged determination and drive to succeed place him at the pinnacle of his sport, while celebrating a legacy that is still being written."
The beginning of his story was rough, as Hawk recalls being booed at competitions for not fitting into the sport's "ideal" ways. "I always felt a little misplaced. But I'd found this thing that I loved, and I had so much more to prove," he says in the first look trailer.
His determination drove him to break skateboarding barriers and become the sport's poster boy, but that accomplishment came with other challenges. "I was just thrust into adulthood. I never thought I'd be famous. But it's the worst drug."
The film will look at how the now 53-year-old learned to balance his passion for skateboarding with his role as a husband and father. And no matter how much he succeeds, he will always keep trying to improve in all aspects of his life. "I'm not gonna quit," he states.
In addition to Hawk, the film features interviews from fellow pro skateboarding stars Stacy Peralta, Rodney Mullen, Mike McGill, Lance Mountain, Steve Caballero, Neil Blender, Andy MacDonald, Duane Peters, Sean Mortimer, and Christian Hosoi, along with a memorable soundtrack featuring the likes of The Clash, The Sex Pistols, XTC, New Order, and more.
The film is produced by HBO Documentary Films in association with Duplass Brothers Productions and Beware Doll. Director Sam Jones executive producers with Mark and Jay Duplass and Mel Eslyn.
"I'm still trying to figure this out, and I never wanted to back down from a challenge," says Hawk.
Tony Hawk: Until the Wheels Fall Off, Documentary Premiere, Tuesday, April 5, 9/8c, HBO & HBO Max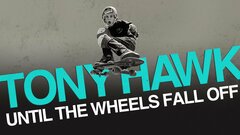 Powered by