HBO Max Releases First Look Trailer For DC Comics Series 'DMZ' (VIDEO)
Rosario Dawson travels through a dystopian Manhattan in search of her missing son in the first look trailer for HBO Max's upcoming series DMZ.
Based on the DC graphic novel written by Brian Wood, DMZ takes viewers into the visual landscape of a dangerous and distorted Manhattan, now a demilitarized zone, caught between forces of the United States of America and the secessionist Free States of America. In this dangerous and violent environment, Alma Ortega (Dawson) embarks on a quest to find her missing child.
The trailer (watch below) sees Dawson navigating the wild and rugged terrain of an abandoned Manhattan, dodging gunfire from other survivors, and clashing with gangs that have formed in this new, lawless society.
In addition to Dawson, DMZ stars Benjamin Bratt (Law & Order) as Parco Delgado, Freddy Miyares (When They See Us) as Skel, Hoon Lee (Banshee) as Wilson, Jordan Preston Carter (The Haves and The Have Nots) as Odi, and Venus Ariel (NCIS: New Orleans) as Nico. Also cast in the series are Jade Wu, Rey Gallegos, Mamie Gummer, Agam Darshi, Rutina Wesley, Nora Dunn, Juani Feliz, and Henry G. Sanders.
Robert Patino helms the series and is set to executive produce alongside Ava DuVernay and ARRAY Filmworks' Paul Garnes. Patino serves as showrunner and penned the first episode, which DuVernary directed. Ernest Dickerson (Bosch) directs and executive produces three episodes.
The original DMZ comic book series was first published under DC's Vertigo imprint in November 2005 and ran to February 2012, covering 72 issues that have also been compiled into 12 trade paperback volumes. As well as writing the series, Wood provided the artwork alongside Riccardo Burchielli. The series received critical acclaim upon release.
See Also
It's not the only spinoff series in the works from Reeves.
This isn't the first time a TV adaptation of DMZ has been attempted. In 2014, Syfy was planning on a TV version of the comic, with former Mad Men writers and exec producers Andre and Maria Jacquemetton and Marriage Story producer David Heyman attached. The upcoming HBO Max adaptation was picked up for a pilot order in October 2019.
DMZ, TBA, HBO Max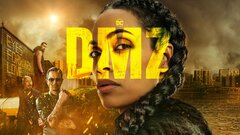 DMZ
where to stream
Powered by