How 'Survivor' Season 42 Will Be More 'Dangerous' Than Season 41
Survivor is back, and it's not slowing down after Season 41. The new season premieres on Wednesday, March 9, on CBS, and its format assures that winning the $1 million has never been harder.
Season 41 brought about the most shocking changes in the game's history. Host Jeff Probst says those changes are staying, and they're getting cranked up a notch, earning Season 42 the title of the "most dangerous version of Survivor ever seen."
One change that's sticking around is the shortened length of the game (26 days vs. 39). The season was shortened because of the COVID-19 pandemic, but Probst said the 26-day structure may be here to stay. "The decision to change the game to 26 days came from the fact that we couldn't leave our bubble," he told Entertainment Weekly. "So if we wanted to shoot two seasons, we had to do it back to back. For us to shoot two seasons of 39 days, back to back, along with our 14-day quarantine, would have meant nearly 100 days, and that was simply too long."
So, what do you do with a game that lost 13 days of play? You make it harder, of course! Survivor Season 42 was filmed immediately after Season 41, meaning the new contestants have no idea what other changes were made last season. And those changes were many.
For starters, the tribes had to earn their basic survival needs from day one. Rice, flint, and other supplies had to be won, whereas the tribes were provided with these resources at the beginning of past seasons. Season 41 also brought on harsher penalties for losing challenges. A team could win flint one day, but have it taken away the next. Contestants could go days without eating under this new structure — and many of them did.
Other new features were the shot in the dark (a tribal council move that could save someone from elimination or send them packing) and the weird phrases that activated idols.
See Also
Jeff Probst continues to host.
In a preview for Survivor Season 42 (above), Probst said, "We're gonna continue to lean into everything we did in 41, but we're gonna change certain variables to see if it changes their decision-making process."
Basically, they're making the already difficult changes even harder. If there's anything Season 41 taught us, it's that Survivor is letting itself changes its rules whenever it wants now to keep the pace relentless and the tension constantly building. The unpredictability of the already intense twists will surely make for a chaotic season.
We can't believe #Survivor 42 premieres tomorrow!🤯 Enjoy the first 4 minutes of tomorrow's episode as a warmup!🔥 pic.twitter.com/AUEfNaGsxO

— SURVIVOR (@survivorcbs) March 8, 2022
Another thrilling twist was how frequently people's votes at tribal council were at risk. From summit challenges to idols secretly blocking people from voting, players' ability to save themselves with a well-placed vote was never more up in the air.
The 18 new contestants will learn just how much the competition has changed in the two-hour season premiere. And the physical, mental, emotional exhaustion of the new game structure, paired with possible loss of voting ability, is a recipe for chaos.
Prepare yourselves for the completely unpredictable season that will be Survivor 42.
Survivor, 2-Hour Season 42 Premiere, Wednesday, March 9, 8/7c, CBS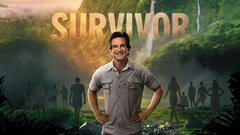 Powered by