'The Batman' HBO Max Spinoff About the Gotham PD 'Put on Hold'
The Batman hit theaters on March 4 to critic and fan acclaim, with Robert Pattinson and the entire cast getting praise for their performances. Director and writer Matt Reeves' praises are also being sung. It was a box office smash opening weekend, which you'd think would be a good omen for the upcoming HBO Max shows.
But according to Reeves, at least one of the upcoming Batman HBO Max spinoff series is on hold indefinitely. Reeves told the Happy, Sad, Confused podcast the series centered around the Gotham City Police Department, tentatively titled Gotham City P.D., has been shelved. "One thing that we're not doing that I was gonna do… So, there's the Gotham police show, which, that one actually is put on hold. We're not really doing that," he said.
The series would have acted as a prequel for The Batman, focusing on the corrupt GCPD. Writer and producer Terence Winter (Boardwalk Empire) was originally attached to the project, but he exited the series and was replaced by Joe Barton.
"The series was going to be kind of like 'Prince of the City,' where it was going to be year one because the movie is year two, and I wanted it to be the first appearance," Reeves said. "But it wasn't going to be a Batman story. It was going to be about this corrupt cop, and it was going to be about how the worst gang in Gotham were the GCPD. And [Bruce] would have touched paths with Gordon. It would have been someone to measure him against, but it would be a battle for his soul."
Gotham City P.D. was going to be "super cool," according to the director, but a corrupt cop as a lead character was reportedly not what the network was looking for. "They didn't not like the idea, they just wanted to center a show on a character who was more — I get it," Reeves said. "So I was like, 'OK, so maybe someday we'll do that show.'"
See Also
Matt Reeves' new concept project loses a key writer.
The series is reportedly being reworked into a show about Arkham Asylum. "The way that Gotham is a character in the movie, I really want Arkham to exist as a character," Reeves told The Cyber Nerds. "You go into this environment and encounter these characters in a way that feels really fresh. And so in our work on Gotham, that story started to evolve, and it started feeling [like], 'Wait, we should really lean into this.' And then that's kinda where that's gone."
The Penguin HBO Max series starring Colin Farrell is seemingly still in the works. Reeves told Entertainment Weekly that the idea for a Penguin series came from a desire to have shows about characters introduced in The Batman.
"I was thrilled by that," Reeves said. "I said [to HBO Max], 'To be honest with you, the thing that was going to be the seeds of what I thought the next story could be in terms of the Penguin is that I saw there being this kind of 'American dream in Gotham' sort of story, almost like Scarface; the rise of this character who we all know will achieve mythic status.' He is underestimated and he's like a time bomb… They were like, 'Oh my God, we're in!' And that was really exciting because, by that point, Colin had already given life to this character."
The Batman is now in theaters.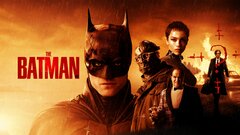 Powered by