'The Good Doctor': Antonia Thomas Is Returning in Season 5
Dr. Claire Browne might not recognize St. Bonaventure when she returns to the hospital on The Good Doctor. It'll all depend on whether or not Salen (Rachel Bay Jones) is still in control.
Antonia Thomas, who played Claire for the first four seasons before exiting in last spring's finale, is returning for two episodes in Season 5, Deadline reports. We'll have to wait to find out just what leads to her appearances and when exactly she shows up. Right now, she's just set to show up in the "spring."
Thomas' departure was announced the same day as the Season 4 finale, and at the time, she'd been open to returning to the ABC medical drama. The way the series wrote out her character — she took a job in Guatemala, where she and the other doctors had been on a medical mission for the last two episodes of Season 4 — allowed for that possibility.
"We have thrown a lot of crap at that character over the years, and Antonia has always been fantastic. Claire has always been a pleasure to write for and to watch," showrunner David Shore told TV Insider about the finale. "The important thing to me was I wanted to give Antonia and Claire the ending they deserved, which to me meant it was important that she not be running away from anything, that she'd be running to something, which interestingly enough is a sentiment that Lim [Christina Chang] express to Mateo [Osvaldo Benavides] and then he expressed it back to her in the finale. But I think it applies to Claire's character even more so."
The finale left her happy — "she's home, in some ways," Shore said — and with that sentiment and Thomas' return not permanent, chances are she could still be in Guatemala. But there is still the question of what will be bringing her back. Is she in town just visiting? Will we see something happen that requires her to be granted privileges at her former workplace? Might she be back for Shaun (Freddie Highmore) and Lea's (Paige Spara) wedding, assuming that's eventually back on? Right now, it's not looking like it's happening anytime soon.
The Good Doctor, Mondays, 10/9c, ABC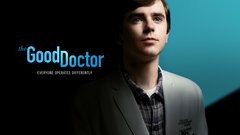 Powered by