'iCarly' Season 2: Paramount+ Sets a Premiere & Unveils First Trailer (VIDEO)
Wakeup iCarly nation because Season 2 of the Paramount+ revival is gearing up for its debut as the show returns Friday, April 8 on the streamer.
Two all-new episodes will drop on premiere day with new installments following each Friday. Picking up where Season 1 left off, the iCarly revival continues to follow the trials and tribulations of the original influencer, Carly Shay (Miranda Cosgrove), as she and her friends navigate work, love, and family in their twenties.
The 10-episode season sees Carly refocusing her attention on her friends and family in particular following some romantic complications last season. Along with her relationships, Carly's also continuing to boost her revived web channel by creating new content.
As for Carly's brother Spencer (Jerry Trainor) and best friend Harper (Laci Mosley), they're navigating new personal and career developments. Meanwhile, Freddie (Nathan Kress) must balance raising Millicent (Jaidyn Triplett) as well as a new app and a new girlfriend.
See Also
The 'Drake & Josh' costars will come back together when Peck guest stars as Carly's 'aggressive' manager, Paul.
Along with teasing all of these characters' returns, the trailer, below, also unveils a special guest star in Josh Peck, who previously starred with Miranda Cosgrove in Nickelodeon's other former hit series Drake and Josh. And if their interaction in the trailer is any indication, they're not playing buddy-buddy in front of the camera.
Produced by Nickelodeon Studios, iCarly is based on the original series of the same name which ran from 2007 to 2012. The revival is executive produced by Cosgrove with showrunners Ali Schouten and Jonathan Fener. Meanwhile, Jerry Trainor, Nathan Kress, and Alissa Vradenburg serve as producers.
Catch the first look at Season 2, below, and don't miss the premiere later this spring on Paramount+.
iCarly, Season 2 Premiere, Friday, April 8, Paramount+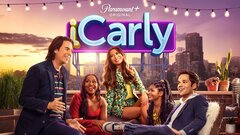 Powered by