'Legends of Tomorrow' EP on [Spoiler's] Exit & the Season 7 Finale Booster Shot
[Warning: The below contains MAJOR spoilers for the Season 7 finale of DC's Legends of Tomorrow, "Knocked Down, Knocked Up." And if that title doesn't clue you into at least one development, you might want to go back in time to see where you lost your way.]
The team said goodbye to Season 7 tonight in an hour that also saw them losing a beloved member and learning that a teeny-tiny one might be joining them, via an unexpectedly expectant Sara (Caity Lotz). In addition, there was the debut of Scrubs vet Donald Faison as DC Comics' Booster Gold, a resolution to the Good-vs.-Evil Gideon (Amy Louise Pemberton) saga, a romantic rescue during World War 1 for Gwyn (Matt Ryan), and, in the episode's final seconds, a raid on the Waverider by some Time Bureau types hunting down our band of history-tinkering misfits.
Should they get an eighth-season renewal, showrunner Phil Klemmer has big plans for their futures that even time travelers won't see coming. Here are some…
Congratulations on surviving what was probably your most difficult or challenging season. I mean, setting it as a period piece… I was actually just reflecting on that. Part of me wishes we had stayed there longer. I really missed Texas, 1925. It was all so much simpler then before we had to deal with either the First World War or the specter of a Third World War…. [Laughs]
Well, you could go back there next season. Well, no. We're unfortunately dealing with a real imprisonment out of space and time, I think. The Legends have fudged up in such a way that they're not going to be allowed to exist within the timeline. And look, we touched on the Vanishing Point in Season 1, so we're not going to retrace those steps quite so closely. I hate to say it, but it's time to build some new standing sets, and the fact that I have Constantine gargoyle sitting on my desk right here in front of me is proof that we won't be going back to the house.
Then we're looking at the Trial of the Legends, perhaps? Exactly. Yeah. Could we make a whole season that?
If everyone is, uh, tried separately. And that also gives you a wealth of characters to possibly pull back in who have been maybe negatively impacted by the Legends. I think it'll be something between Judgment at Nuremberg and Back to School. [Laughs] Because we don't want it to be full incarceration.
Oh, no. Is this like, they have to go back to training? I think there might be some playful reeducation, which we all know they don't think they need.
When you think of it, literally everyone but Ava has jumped into this job without any actual professional training. They don't know the law and ethics of time travel. Or anything! It's akin to my own career in screenwriting as a total autodidact. I think we need at least one professional in the room…. Actually, I think a couple of our writers have been to film school. [Laughs]
So: Time Travel University? I don't think it's gonna be Ivy League quads and stuff like that. It'll be a little prison, a little reeducation. And then there'll be a new mythology and a new big bad behind it, you know? Our big bad this season was [essentially] artificial intelligence, like which Gideon was to be trusted? Who should be in charge of the timeline? We've taken on magical creatures, we've taken on historical figures, so we'll have to find a new way to skin this old cat.
It sounds like you'll be looking at major corporations and government. Capitalism is in our sights. We're going to look at the corrosive effects of capitalism and industry run amok.
That'll sit well with Zari (Tala Ashe). [Laughs] I know. It's also great that we're the show created by two massive corporations. They're gonna be like, "What are you guys doing?! Ya bunch of lefties—who do you think pays for your special effects?"
Right! Now, how do you see Ava (Jes Macallan) and Sara as parents? I don't think anybody really has an understanding of who they're gonna be as a parent until it actually happens. And it's fun because I imagine Ava would be the type of person who would read every possible book, and Sara would be the person who's just like, "As long as we've got diapers and a car seat for the Waverider, the kid's gonna be fine." [Laughs]
Do you want to show Sara pregnant and going through this, or would they already have the baby when you come back? That's a question for Caity Lotz and how long she feels like wearing a pregnancy prosthesis and how she feels about doing intricate stunts while wearing said prosthetic. [Laughs]
And Nate saying goodbye—is this a permanent thing? Because no! Ugh, I know. It's a painful thing. I always hope that they come back, I really do. Having those people back for the 100th episode was like, "God, it still works. They [picked back up] automatically." So look, Nick Zano wants to be in Malibu, which is not a crazy thing. And if somebody tells me they wanna be in Malibu with their wife and children, all you can say is "God bless," right? But that was a rough goodbye.
It's an interesting tag-out: He leaves just as you bring in Donald Faison…as Booster Gold! I know.
It's shocking you could get your hands on the character. I'm still expecting somebody to say, "Haha. That was all a big joke!" Maybe it's our underdog status? No, that's not actually our status, just our mentality. I can't shake that.
I mentioned this in another interview, but there is this moment where they meet him in the finale, and Nick and Donald have this moment where it feels like this acknowledgment of somebody walking in the door and somebody walking out. It's really interesting to watch because I don't know if they were even cognizant of what they were doing, but I swear to God, it feels like Zano is giving his rabbit's foot to Donald and being like, "Good luck with it, buddy."
Is the plan to keep Donald on the board? For sure. We're not gonna let Booster get away. I'm really excited to write him—he's the kind of character you wish you could be. You could get away with murder and be so charming that you never really have to suffer the consequences. He's the antithesis of a writer. Writers are deeply neurotic and self-loathing self-doubting, etcetera. I think that's why we writers are drawn to those characters—because those are our secret alter egos.
Despite being arrested, the team ends up pretty solid with one another. I'm guessing that won't last long. I don't know. We kept the team split up for the first half of the season, and then we allowed them to become reunited. I can't tell which I like more, because getting the band back together is so great, but breaking them into small groups is so interesting. It forced Astra [Olivia Swann], Spooner [Lisseth Chavez], and Gideon to kind of define themselves when they were decoupled from the circus, literally. I like doing that again with different groupings, so I don't know. One of the virtues of having so many characters on your show is that there are infinite varieties of triplets and duets. It would take 11 episodes for Spooner and Zari to sit at a bar and be like, "So tell me, what's your story? Who are you?"
And an endless supply of stories, too. Yeah, I don't know if we'll ever feel done. But there is a comfort of having a character like Nate leave the show the way we intended. I've been proud of the way we've been able to have people come and go that feels organic and in concert with what the performers want. And who knows where this Booster guy fits? It would take us a lot of time just to uncover where he belongs. We don't need one season to wrap this thing up—we need, like, four seasons, which is— I'm not gunning for Supernatural. [Laughs]
Do you have plans to bring in any other characters, like new team members or even familiar faces? Not yet. We barely got through last season. [Laughs] I wouldn't discount it, but I think at this moment, like with Booster, with Zari coming into her own, with Sara and Ava wrapping their arms around a family they're about to have, Astra and Spooner's friendship, Astra and Behrad's budding romance…I feel we have more stories and more characters than we have time for. So I think we're good.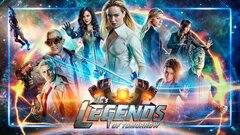 Powered by