'The Resident': Manish Dayal Teases Potential Conflict Ahead for Devon & Leela
Dr. Devon Pravesh (Manish Dayal) has officially moved into clinical research — he'll be back in the ER, don't worry — and in the March 8 episode, he treats his first patient with a revolutionary medical fluid. But as we've come to expect from The Resident, things won't go as planned.
"In for a Penny" also sees an overdosed John Doe lead Dr. Conrad Hawkins (Matt Czuchry) to a much bigger scandal than he expected. Plus, get ready for the discovery of a shocking secret regarding Dr. Kincaid "Cade" Sullivan's (Kaley Ronayne) past.
Dayal previews what's ahead with Devon's patient and relationship with Dr. Leela Devi (Anuja Joshi).
Devon's getting to work on clinical trials, but things don't go as planned when he treats his first patient. What can you preview?
Manish Dayal: Devon is going on this career path that he's very passionate about. I think he's putting his everything into it and it's probably what he's going to be most good at. Clinical trial and research is the foundation of so many cures in medicine, and I think he wants to be at the forefront of that.
In Episode 15, he takes on his first clinical trial patient who he has a friendship with and this person has a relationship with Chastain — they've been a patient there for a while. So he goes on this journey, which is not just medical, but it's also personal. It's about how do you help and assist a patient with something that's theoretical and something that is a test, a trial. So we're all learning together, doctor and patient learning together. That is a very dangerous place to be and this character and Devon go on this journey that's an intense ride and it's revealing and shocking, and it teaches us a lot about medicine and about cures and about scientists and what they do. It's a pretty special episode. I really liked it.
Devon and Leela are going strong, though it does seem like his feelings about her career path could lead to some tension in their relationship. What's coming up?
The verdict's still out on that. We know that Leela's new in her career as a doctor and she's ambitious and nothing is going to stand in her way. I think that's what makes her such a special character, that she's driven and she's ambitious and that comes first for her right now, which means for Devon, who is in a different place in his life and maybe he's thinking about settling down and sort of domesticating a little bit, just their timing is off. It's always a matter of timing sometimes in relationships, particularly for them. So they're navigating that and figuring out if their needs and wants are the same and maybe they won't be. And if they're not, they both have to sort of move on and figure out what what's in store for them or not. But I think it's clear that Devon is ready to settle down in a way she isn't.
Speaking of settling down, I was going to bring up marriage because there was the time jump, so a lot more time has passed than we've seen them together.
We missed that. On screen, we don't see the evolution of their relationship, but we imagine that now they've moved in together. They've been together for a while. They know each other pretty well. So I'm hoping that in these next batch of episodes, you see them in their element, just the two of them, where we can really learn more about who they are and what their relationship's about.
Devon and Conrad were the ones to start trying to look into Cade only to come up empty, so with her secret about to come out, how much is Devon involved in that storyline?
Not much. This is the storyline that that I'm not involved in so much because I was in prep in directing [Episode] 14 at the time, but I know that Conrad uses his special instincts and his diagnosis skills to sort of figure things out as he does. There's something peculiar about her that I think everyone notices, but it's kind of going to be up to Conrad to figure it out.
What will we see from Devon in terms of doing his clinical trials and working in the hospital?
Devon does come back into the ER, so he kind of pops in and out of the ER. He's still focused on clinical trial research, but he doesn't completely leave the ER. He comes back and forth. He'll definitely be in the ER in Episode 16, and you'll see him go on a journey with a patient in the ER that's actually not centered around clinical research.
Padma (Aneesha Joshi) asked Leela for one of her eggs to have a baby. How much is Devon going to be part of that storyline going forward? It does lead to the question of if Devon and Leela want to have kids…
It's a really interesting one because at one point, you have to imagine that Devon's invested because he too wants to have children, but at the other end of things, this is ultimately Leela's choice and it's her choice to do this or not. Of course Devon has an opinion and has his thoughts, but he can't overstep too much. He's going to be part of the storyline because it impacts him and I think it might not just raise some eyebrows, but also potentially cause some friction and conflict between the two of them. And that's something we really haven't seen between this happy couple so far, so I wonder what it's going to do to them.
The Resident, Tuesdays, 8/7c, Fox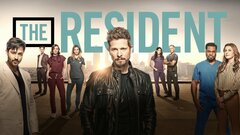 Powered by