'The Resident': Jessica Lucas on Closing out the Porter Arc and Billie's Relationships With Trevor & Conrad
[Warning: The below contains MAJOR spoilers for The Resident Season 5 Episode 14 "Hell in a Handbasket."]
Dr. Billie Sutton (Jessica Lucas) makes the decision that's best for her son, Trevor (Miles Fowler), in the latest episode of The Resident, only to be blindsided when he steps in to ensure that Dr. Robert Porter (Scott Cohen) doesn't ruin her reputation.
Following Billie's statement that Porter raped her when she was 13, he sets out to discredit her, and to protect Trevor from finding out the truth about his father, she's ready to withdraw her complaint — only for Trevor to step before the State Medical Board and reveal who he is. A DNA test will prove Billie's telling the truth. After, she and Trevor share a hug in what star Manish Dayal called his favorite scene to direct.
"There was something about [it] I always thought was special," he tells TV Insider. "[They] have a very complicated relationship. They don't really understand each other fully. Here, after they do realize those things and everything is out in the open, you see them hug and that hug is so important and meaningful because this is first time these two people have ever really touched, and this is a mother and a son, and that is incredibly heartbreaking. I thought that that moment needed to feel really powerful. When Billie reaches out and hugs, Trevor, it's not something he was expecting, but it's something probably he yearned for his whole life, and the same goes for her."
Below, Lucas breaks down this tough arc, what's going on with Billie and Conrad, and what's ahead for her and Trevor.
How's Billie feeling now she knows Porter will face some consequences, albeit probably not the ones he should, like jail time, and Trevor knows the truth?
Jessica Lucas: I think she feels at peace. She is moving forward with her relationship with Trevor in a way that she didn't expect. Obviously the whole situation has allowed some barriers to be broken down between the two of them, and hopefully they can move forward with more of a relationship than they have had in the past. I don't think her goal or intention was ever to see him get jail time. She didn't want him to have so much power, but as soon as she started to poke at the bear, it led her down a path that she wasn't expecting and people in her life started to get hurt. It's somewhat satisfactory because she walks away with so much of a better relationship with her son.
This was probably the most maternal we've seen Billie toward Trevor, and it happens just as he needs space. What is coming up for that relationship?
Episode 16, there's a good sort of satisfactory conclusion to that. It took her by surprise as well. I don't think that she's ever had those sorts of feelings towards anyone in her entire life, and it took her quite by surprise when she feels so protective of him in the episode. She's been pushing down these feelings her entire life and really not confronting them at all. She's really good at compartmentalizing because she's a doctor and this is how she's chosen to dealt with her trauma. This is the first time that she's really had to confront it, so when she's finally forced to do that, it turns out that she has more feelings toward him that are motherly than she would've expected, and that's a really lovely thing to see.
Will we see a change in Billie at all going forward?
Slightly. I don't know if you're gonna see it in any hugely significant way. There is a little bit more with Trevor where you do get to see a little bit of a softer side. There's a really beautiful scene between the two of them in Episode 16. Maybe she'll be a bit lighter. She's obviously dealt with this huge source of trauma and a lot of demons from her past.
Billie says Nic understood, and it feels like that was when the show touched on the fact that Billie lost her, too, the most. How is Billie handling that loss?
It comes up from time to time but she's very good at managing her emotions and compartmentalizing and not being so good at confronting things that she needs to deal with. The only person who understands what she's going through is Conrad [Matt Czuchry]. I'm sure they have moments together that we don't really get to see where they commiserate about or bond over Nic's death. I think she's a larger part of GiGi's life than is shown on the show, but it was nice to touch on that at least in this episode because it probably affects her mainly because she's not the kind of person to open up to anyone at all. Nic was really the only person who she could talk to about these kinds of things, and especially in this episode, I think that really hits home for her: I don't have anybody to talk to about this or depend on or rely on. She spends most of the episode internalizing it all, then as she finds out, through Bell [Bruce Greenwood] and Kit [Jane Leeves] and Conrad, she actually has more people in her corner that she can rely on than she maybe thought she could.
This season has given me the Billie and Bell scenes I didn't know I needed.
Yeah, me too! I absolutely love working with Bruce. He is so talented and energetic and fun, and so I'm happy to work with him personally as an actor, but yeah, we found an interesting relationship between the two of them. I'm glad he was brought into the fold of that storyline. It was unexpected and really, really nice to see that side of Bell, that really supportive, "I've got your back" side. I didn't really think that that was gonna come out of this either, but now she has someone else she can lean on and rely on.
I've really enjoyed the support from Kit to Billie from the beginning. How much has that meant to Billie?
Everything. When you've gone through things like Billie's gone through, you really just need people to stand up and make you believe that you can trust in people again. That's a really hard process for her. Kit has never wavered from giving her a second chance after she blew up her career five years ago to being completely unwavering in her support of going after Porter. She really looks up to Kit as a mentor, but also now as a friend.
We didn't see Billie tell Conrad everything, but the assumption is she'll tell him off-screen.
Matt and I discussed this a bit. I think it's more implied that he probably knows a lot more than the conversation you see in the episode. That's how I played it, that even if everyone didn't hear straight from her mouth the gritty details, almost everybody probably knows the story at this point. I assume that he pretty much knows her past at this point, but she wouldn't be one to really discuss it.
There was that moment where she was watching him leave with GiGi and Marion. How does Billie feel about Conrad?
I think it's complicated. Before it gets defined on the show, I would like people to keep that thought process going of wondering if it's a friend or more than that. I don't really want to define it too much. I'm sort of playing it more ambiguously at the moment, but I could see how a romance could happen. I could see how a deep friendship could happen. And really, it all stems from this thing that they went through together — they both lost the most important person in their life. There's this bond over that experience and the shared grief. The foundation starts there.
I was wondering if it was about him or if it was also just watching him raise GiGi because Billie didn't raise Trevor.
Exactly. I think it's both. I think it's complicated and I love that they wrote it in such a way that it could be interpreted as either way. It's not necessarily a romantic look. It's just a look of longing.
See Also
He is the first actor on the show to step behind the camera.
Talk about Manish directing you this episode.
Working with Manish was incredible. For his first time out, I was really, really impressed by him. He's really enthusiastic. He's really positive. He has such a depth of knowledge of the show, but also this particular story. You could tell he just poured his heart and soul into it. He had amazing vision for everything. He was really clear about what he was trying to achieve and accomplish. I'm really proud of him 'cause I had a great experience working with him and I think the episode turned out fantastic.
The Resident, Tuesdays, 8/7c, Fox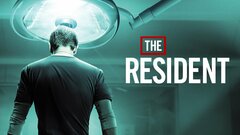 Powered by