'Our Flag Means Death': Rhys Darby & Taika Waititi Preview HBO Max's Pirate Comedy
HBO Max is setting sail for a swashbuckling good time in its latest comedy series Our Flag Means Death, starring Rhys Darby and Taika Waititi.
The real-life friends take on the roles of real-life pirates Stede Bonnet and Edward Teach (better known as Blackbeard) for the half-hour show from creator David Jenkins (People of Earth). "There's nothing more fun than working with Taika," remarks Rhys Darby who portrays the "Gentleman Pirate," lesser-depicted in history.
"So if he's going to be there, of course, I'm going to be there," continues Darby. "I don't care what it is at the end of the day. We trust each other. We have the same sense of humor and we are good for each other, so it just works."
That sentiment could also apply to their onscreen bond which gets off to a bit of a rocky start before turning into something deeper. In comparison to the fearsome Blackbeard, Darby's Stede is a landlubber who trades in his affluent life ashore for the pirate's life at sea. As would be expected, he's a bit unprepared for all of the elements that come with captaining his ship, The Revenge, crewed by seasoned pirates.
Just when his mates are about ready to jump ship or throw him overboard, Stede's luck turns around after a fateful run-in with Blackbeard. "For me, it was the word pirates," Waititi says, of the reason he was convinced to board this sweet comedy. The actor who helms the pilot episode as director adds, "When [David] explained what [the show] was about, it felt like a workplace comedy that was focusing on the mundaneness of being a pirate and what happens in the downtime."
Waititi notes that this "is right up my alley because we did that with vampires," acknowledging What We Do in the Shadows' look into roommate life for very different bloodsuckers. "We talked about what happens when you raid a boat and there's nothing on it but seal pellets and [how] it's pretty hit and miss when you're a pirate."
At the heart of the show though is the buddy relationship that pops up between the unlikely friends, "the relationship that David described between Stede and Blackbeard really intrigued me," Waititi remarks. So, what exactly inspired Jenkins to pursue these historical pirate figures?
The answer might surprise you. "I'm not that interested in pirates or the genre because it's been done a lot and it's hard to do much with," admits Jenkins. "I think hearing about Stede Bonnet and seeing what he did, the true crime of it is pretty fascinating." And for Jenkins' fellow executive producer, Garrett Basch, it was all about the story, "I care about good writing," he notes.
If ever there was a fish out of water tale for being a pirate, it would be Stede's story, making the historical element intriguing, to say the least. "Once you get an insight into this guy and how he left his family, blew his life up, and then befriended the world's greatest pirate, all of those things are an interesting personal story that happened to take place in a pirate story," says Jenkins. "And I could see a way through it."
Aided by the oddity of Stede's pirate story, Our Flag Means Death introduces, "the most unlikely pirate of all time," Darby states. "I can't believe that not much more has been done about the guy since Assassin's Creed IV," he adds, noting the video game's inclusion of the figure he's portraying. "And then you've got the Blackbeard who is the most notorious. He's a horrendous human being with the things he's done, but he's coming to terms with that."
"Horrendous human being, but incredible to look at," Waititi echoes Darby, adding, "it's like a beautiful flower that you're drawn into and there's a scorpion hiding in it." But can this dangerous figure find some balance on the high seas? Stede is both wildly different, and surprisingly similar to his more legendary counterpart.
Unlike Stede's prim and proper ensembles though, Blackbeard leans into his grungier existence, "David [said] 'we're going to dress you like Mad Max.' So literally, Blackbeard is Mad Max on the high seas," Waititi marvels. "When we think about how people probably would've seen him and without even having met him, it's like, that's probably what they would've seen in their minds."
"It's the feeling of what Blackbeard strikes in your heart is how he's dressed," Waititi continues, painting an elaborate picture of the pirate, but viewers should anticipate more than just leather and tattoos for the iconic figure. Get a glimpse at the getup when Stede and Blackbeard set sail on HBO Max.
Our Flag Means Death, Series Premiere, Thursday, March 3, HBO Max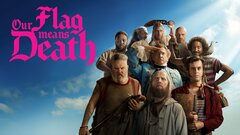 Powered by