Sound the Alarm! 'Gotham's Sirens Are Fired Up (VIDEO)
Gotham's greatest bad girls are all grindhouse hotness in this new promo trailer showcasing "Babs and Tabs," the terrifying twosome we love to love.
The masterfully campy clip counts down the many ways Barbara Kean (Erin Richards) and Tabitha Galavan (Jessica Lucas) have risen to what executive producer John Stephens calls "a nexus of supervillainy" as the co-owners of Gotham's newest den of inequity and insobriety, Sirens. From Babs' early introduction as Jim's (Ben McKenzie) high-society fiance and Tabs' first kill at the side of her late brother Theo (James Frain), there is no doubt that the ladies have stepped into their own power and wield it like, well, homicidal bombshells.
RELATED: Scoop from Gotham's PaleyFest Panel
And if the scenes from next week's episode are any hint, this Thelma and Louise of Gotham's underground are just getting started.
Gotham, Mondays, 8/7c, Fox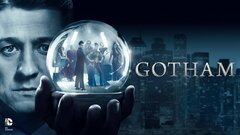 Gotham
where to stream
Powered by