'The Real Dirty Dancing': Corbin Bleu & Cat Cora Break Down Their Big Win
[Warning: The below contains MAJOR spoilers for Season 1, Episode 4 of The Real Dirty Dancing, "The Finale: They Had the Time of Their Lives…"]
Fox's four-part TV event, The Real Dirty Dancing has come to a close as the competition show crowned its season champions during the February 22 broadcast.
Corbin Bleu and Cat Cora walked away with the top honors following their impressive recreation of Dirty Dancing's iconic lift between Johnny (Patrick Swayze) and Baby (Jennifer Grey). Turning themselves into Johnny and Baby, Corbin and Cat wowed the crowd that gathered at the original movie's filming location in Virginia.
"We worked so hard for that," acknowledges Culinary Hall of Famer Cora. "The fact that we nailed that lift. We got one shot at it and we nailed it… I was just overcome with so much emotion. It was magical," the culinary TV personality unveils of the win.
Along with recreating several of the film's musical and dance numbers, the finale lift was certainly Bleu and Cora's hardest. "It was a relief. It was redemption," Bleu, who is best known for High School Musical, acknowledges, noting his past experience on Dancing with the Stars as one of the driving forces behind his determination to win this competition. "It felt so good to take a win on this one.
While it's always nice to win, Bleu further adds, "We both have such deserving charities that we then had a winning pot to be able to give to, so that was also just such a relief." When it came to mastering the moves, the pair had recreated several numbers organized by showrunners, but that finale lift is anything but a piece of cake.
"You think about it throughout, but you're so busy getting [the latest dance] down," Cora admits, acknowledging that the most challenging dance move was always at the back of her mind while competing. By keeping busy with other dances and recreations, "I don't think you dwell on it," she adds.
The chef was grateful for having a partner in Bleu who along with being an accomplished actor, singer, songwriter, and performer, is an experienced dancer. "I really wanted to be paired with Corbin from the beginning and that's why I stuck with him throughout the whole thing," Cora shares. "We had bonded so tremendously and we had this chemistry together… I got the lucky draw when I got Corbin."
The feeling was mutual for Bleu who tells TV Insider, "the appreciation of partner is so mutual. Cat dove headfirst into every single thing we did. There wasn't a single moment that I doubted her when we were ever performing or on stage," he compliments. "Trust is one of the most important aspects of any partnership and I really trust Cat, and I trusted her throughout the whole process."
That shared trust allowed them to overcome the challenge of the lift which they struggled with during practices leading up to the finale taping. On the flipside, Bleu and Cora's competitors Tyler Cameron and Anjelah Johnson-Reyes were able to nail the lift during rehearsals, boosting the stakes.
"We all really were rooting for each other," Bleu clarifies. "I was really proud of both Tyler and Anjelah… they also hit the lift and also were beautifully partnered together, and did such a wonderful job with that final routine."
As for what the duo will walk away from the competition with, Cora remarks, that along with finding the vulnerable side of herself "that was really empowering," she also wants women and young girls to know "you can do anything at any age. Never put yourself in a box."
For Bleu, he's happy to add some new moves to his resume, "I'm so happy to be able to have those iconic dances added to my docket… to actually know that I can do that lift. That on its own I feel extremely accomplished," he beams.
See Also
Nobody puts Brie in a corner in the pro wrestling ring or dance floor.
Commemorating Dirty Dancing's 35th anniversary, The Real Dirty Dancing is an homage of the sweetest sort, making us wonder, what would the big number or finale challenge be if Fox explored the concept of The Real High School Musical as the Disney franchise recently celebrated its 15th anniversary. "I feel like this show as a format is such a wonderful opportunity for other iconic musicals," Bleu acknowledges, suggesting the likes of Grease, Chicago, and High School Musical as options.
"As far as what that iconic moment would be? It depends on which one you're talking about, but one that is very difficult is 'Get'cha Head in the Game' with the basketballs." Bleu adds that it "is not an easy routine to do."
Perhaps we'll get to see that in the future? We can certainly hope. In case you missed Bleu and Cora's competition-winning routine, check out the number, below.
The Real Dirty Dancing, Streaming now, Hulu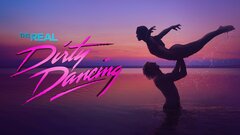 Powered by