'Bel-Air' Cast on How Their Characters Differ From the Original 'Fresh Prince' Series (VIDEO)
Just like Jabari Banks' character isn't exactly like Will of The Fresh Prince of Bel-Air, the friends and family around him are also different in the dramatic reimagining for Peacock.
"We want to relate to this generation, and this generation goes through some crazy stuff," Coco Jones (who plays influencer Hilary Banks) pointed out when TV Insider sat down with the Bel-Air cast. Akira Akbar (Ashley Banks) agrees: "We just want to tell these stories in a new modern way."
Bel-Air's versions of Vivian (Cassandra Freeman) and Phillip (Adrian Holmes) Banks are very different. "He's a successful attorney who built himself a grand career, and she used to be a successful artist, and she put that all on the back-burner, 15 years, to help his career, raise the kids," Freeman says. While "they're a united team," according to Holmes, however, they may not have quite the same vision for their lives anymore.
In this series, "Geoffrey is not a butler," Jimmy Akingbola says. "We're not doing that anymore, not in 2022. Geoffrey's a house manager, but that's a code for many other things… Geoffrey for me is still holding onto the essence of love and care for the family and being there and part of the family, but also he's got his own lane." Both he and Lisa (Simone Joy Jones) are part of more than one world.
Lisa and Jazz (Jordan L. Jones) are both important for Will's journey. "Jazz is… a conscience to Will," Jordan L. Jones says. "This is all new for him, so I play that piece of wisdom and that kind of best friend you could always talk to."
See Also
The new prince of Bel-Air explains the fresh take.
As for this version of Carlton Banks, "In the original, a lot of Carlton's struggles was played for laughs. It was always 'this Black kid who doesn't know how to be Black," Olly Sholotan notes. "It's funny, but then when you see it in this context of what are the real-life implications of telling a young Black kid you're not Black enough, you aren't really this, you aren't really that, and then on top of that young kid struggling with anxiety, how does that reflect in his life choices?"
Watch the video below for much more from the cast about their characters.
Bel-Air, Thursdays, Peacock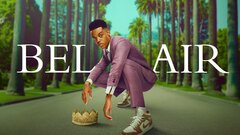 Bel-Air
where to stream
Powered by