How 'Euphoria' Is Using Classic Songs to Tell Its Season 2 Story
In addition to its enchanting visuals and heart-racing plot, a huge element to the experience of watching Euphoria is the music that plays in the background.
Producer Labrinth gained popularity when the show aired in 2019, with the artist's unique soundtrack memorable for its emotion-inducing, experimental style. Loops and snippets of the Euphoria soundtrack became top-trending TikTok sounds in no time. However, in the wake of Season 2, hits from as long ago as the 1960s are being revived and popularized in the same fashion.
Here are eight songs to remind you of the good old days and how they cleverly represent certain points in the HBO drama.
"Dirty Work" by Steely Dan (1972)
Episode 1: "Trying to Get to Heaven Before They Close the Door"
In one of the earliest anxious moments of Season 2, Rue (Zendaya) is brought along to a risky drug deal with Fezco (Angus Cloud), and the dangers of his job affect and scare everyone present. When there is no longer the fear of them being harmed and they agree to do business, Steely Dan's "Dirty Work" appropriately plays, contrasting the intensity with its mellow, positive tune. The lyrics also point to the foolishness of Rue being unnecessarily involved in the situation, and the realization she has about how dangerous Fezco's job is: "I'm a fool to do your dirty work/Oh yeah/I don't wanna do your dirty work/No more"
"Look at Grandma" by Bo Diddley (1972)
"Trying to Get to Heaven Before They Close the Door"
Early on in the season, we learn Fezco's backstory. In the premiere, flashbacks of him as a young child being raised by his grandmother (Kathrine Narducci) explain how he got to the place his character is now. Bo Diddley's ironic lyrics about a Grandma doing un-grandmotherly things compliment the montage of young Fezco assisting drug deals and more violent, risky behavior: "Grandma, grandma, everybody's watching you/She parked a Rolls-Royce and jumped a minibike/It wasn't too long before grandma was almost out of sight/She went to a basement where teenagers hang out/She did the funky chicken and took the whole thing out"
"Never Tear Us Apart" by INXS (1987)
Episode 3: "Ruminations: Big and Little Bullies"
Most of Cal's (Eric Dane) flashback to his high school days surrounds his best friend Derek (Henry Eikenberry). The two high school jocks were secretly more than just friends, and after their graduation, they dance and eventually kiss to this song at a bar. "Never Tear Us Apart" was an '80s hit and well represents the era in which these two fell in love. As Cal's plot unfolds, it is apparent that his and Derek's connection has not died. The two boys knew their relationship would be unapproved by others, so in this moment they promise to never forget each other and the feelings they share. Key lyrics: "Don't ask me/What you know is true/Don't have to tell you/I love your precious heart"
"It Ain't Over Till It's Over" by Lenny Kravitz (1991)
"Ruminations : Big and Little Bullies"
In the same flashback of young Cal and Derek, we see clips of their regular routine: They always did things like driving around, going out to eat and wrestling practice together. Present throughout is this sense of an impending end, since they are soon graduating high school and can't behave the way they do around one another in front of anyone else. Cal and Derek soak up the time they have left with one another, and like the title of the song playing implies, nothing is really over until it must be: "So many years we've tried/to keep our love alive/But baby, it ain't over till it's over"
"Call Me Irresponsible" by Bobby Darin (1964)
"Ruminations: Big and Little Bullies"
Rue dances with and sings to a pillow while high in her room. Because she should not have been taking drugs, she is embarrassed when caught by her sister Gia (Stomri Reid). Rue frantically lies, claiming she only smoked weed, and she and her sister get into an argument about Rue's irresponsibility and selfishness. The song Rue ignorantly dances to while she thinks no one is watching accurately describes her lack of awareness of Gia's presence and lack of regard for her need to stay sober: "Call me irresponsible/Call me unreliable/Throw in undependable, too"
"If" by Jo Stafford (1949)
"Ruminations: Big and Little Bullies"
In a somber ending to Episode 3, Rue walks away, with a suitcase full of drugs, after disrespecting Ali (Colman Domingo). Also, Cassie (Sydney Sweeney) leaves her house to meet up with Nate (Jacob Elordi) in secret, Jules (Hunter Schafer) lies with Elliot (Dominic Fike) in bed, and Lexi (Maude Apatow) holds auditions for her play. In all these instances, characters are committing to what they shouldn't and in denial of what is making them chase what's wrong for them in the first place. Representing these choices, Jo Stafford plays in the background: "If they made me a king I'd be but a slave to you/If I had everything I'd still be a slave to you/If I ruled the night Stars and moon so bright/Still I'd turn for light to you"
"Drink Before The War" by Sineas O'Connor (1987)
Episode 4: "You Who Cannot See, Think Of Those Who Can"
Cal recklessly drives drunk to the bar he once visited with his high school friend and plays this song on the jukebox. Their backstory demonstrates hidden truth about Cal's sexuality, which leads to his outburst to his family. Besides this chorus metaphorically translating to multiple characters drunkenly instigating destruction —Cal to his family, Cassie at Maddy's (Alexa Demie) birthday — O'Connor's lyrics represent preparing for war to ensue when one's life secrets are revealed: "And you live in a shell/You create your own hell" and "Anybody want to drink before the war?"
"My Lovin' (You're Never Gonna Get It)" by En Vogue (1992)
Episode 6: "A Thousand Little Trees of Blood"
Nate and his mom Marsha (Paula Marshall) reminisce on their family's past and their relief that Cal has left the house. Marsha shares unfavorable memories of her undeserving husband. The scene's respective song repeats lyrics indicating there's a lack of love towards someone who has betrayed them: "No, you're never gonna get it (Ow)/Never ever gonna get it/(No, not this time)/No, you're never gonna get it/(My love)" In this case, that is Cal Jacobs.
Listen to more throwback songs by continuing to watch Euphoria.
Euphoria, Sundays, HBO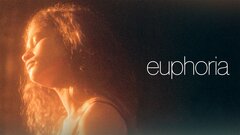 Powered by