'Y&R': Who Will Win the Chess Game Between Ashland and Victor? (VIDEO)
Robert Newman — who spent 28 years playing heroic Josh Lewis on CBS' gone-but-not-forgotten serial Guiding Light — is still trying to get the lay of the land in Genoa City after assuming the role of Ashland Locke on CBS's The Young and the Restless last month.
"I'm not quite sure who the good guys are and who the bad guys are!" he admits with a laugh. We know the feeling! Now running Newman-Locke with his wife/boss, Victoria Newman (Amelia Heinle), Ashland has been battling life-threatening lung cancer—which his father-in-law, the venerable Victor Newman (Eric Braeden), is convinced is fake!
"It's like a fast-moving speed chess game that these two are playing, where Ashland is just trying to stay one move ahead," says Robert.
Victor makes a bold move on Friday, March 11, presenting Victoria with damning evidence obtained by lawyer Michael Baldwin (Christian LeBlanc). "In my view, Ashland's love for Victoria is real," Robert says. "He's figuring out how to protect his part of the business, but I personally think he's petrified of losing her."
The Young and the Restless, CBS, Check Local Listings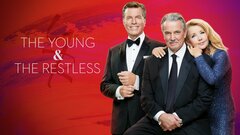 Powered by