What's Worth Watching: 'Nightcap' on Pop, 'Undercover', 'Survivor', 'Rectify' and more for Wednesday, November 16
Nightcap (8/7c, Pop): A-list stars show up for this B-grade knockoff of The Larry Sanders Show, which is most amusing when allowing celebrities to show a less flattering side of themselves, with Sarah Jessica Parker, Kelly Ripa and Mark Consuelos among those featured in the first of two back-to-back episodes. (Gwyneth Paltrow and Nate Berkus show up in the second.) Set behind the scenes of a barely surviving late-night talk show, hosted by a never-seen "racist homophobe" (Andy Cohen's words) who's universally despised, Nightcap focuses on a much-maligned team of talent bookers, led by executive producer Ali Wentworth as neurotic Staci. The workplace antics are deeply silly, and if that's your idea of a tasty nightcap, enjoy.
Undercover (8/7c, BBC America): This two-part political and legal thriller from Peter Moffat (whose BBC series Criminal Justice inspired HBO's terrific The Night Of) starts strong, introducing the terrific Sophie Okonedo as an impassioned lawyer and Adrian Lester as her conflicted husband, who has been shielding his identity for years as an undercover cop reluctantly spying on his activist wife. As things come to a head over six hours (concluding Wednesday), Undercover collapses under the weight of its improbabilities, including a preposterous Supreme Court hearing featuring Dennis Haysbert as a Death Row inmate, and worst of all, Lester's flimsy cover story that you can't believe held up for so long. The series suffers from a severe identity crisis. Is it an indictment of U.S. death penalty policy? A timely exposé of police corruption and brutality in England? A domestic melodrama built around a betrayal? Yes, yes, and the last one alone would have sufficed as a gripping drama.
Survivor (8/7c, CBS): With last week's puzzling post-merge elimination, the members of the former Millennial and Gen X tribes are now evenly split—though perhaps not evenly aligned. Which makes each immunity challenge pivotal, and the sharing of secrets so dangerous. Let the blindsides continue.
Rectify (10/9c, SundanceTV): This episode of the quietly compelling redemption drama provides a heart-wrenching study of tentative connections between damaged people. With the potential sale of the tire shop pending, the estranged Ted Jr. (Clayne Crawford) and Tawney (Adelaide Clemons) try to be there for each other in a moment of existential crisis. And Daniel (Aden Young) continues to surprise, as he goes on a road trip with the free-spirited artist Chloe (Caitlin Fitzgerald), who wonders if this quiet man can ever loosen up, enjoy life, and savor the gelato. We're still rooting for him.
Inside Thursday TV: Antoine Fuqua (Training Day) directs the pilot episode of AT&T Audience Network's Ice (8/7c), a crime drama set amid L.A.'s underground diamond trade. Jeremy Sisto and Cam Gigandet star as half-brothers in a gem dynasty that runs afoul of dangerous elements, including Donald Sutherland as an Afrikaner diamond merchant. … A hacker stirs up trouble with damaging leaks on Fox's Empire (9/8c), causing unrest at the label between the family and its talent roster. Bad news for everyone but Andre (Trai Byers), who sees this as an opportunity to restore his reputation. … Guess who's coming to ABC's black-ish (9:30/8:30c) for Thanksgiving dinner? Lorraine Toussaint as Pops' (Laurence Fishburne) older sister, Almaviligerais, who rubs Ruby (Jenifer Lewis) the wrong way.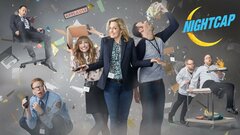 Powered by