'Married at First Sight': 4 Key Moments From 'This Is My Decision Day' (RECAP)
[Warning: The below contains MAJOR spoilers for Married at First Sight, Season 14, Episode 7, "This Is My Decision Day."]
The honeymoon is officially over as the couples of Married at First Sight Season 14 return to reality in Boston for the latest episode," This Is My Decision Day."
From moving into new apartments to seeing each others' places, the couples are diving deeper into what it means to be married, and what it means to question the relationship in this pivotal installment. Below, we're breaking down all of the drama so beware of spoilers ahead.
Moving In
After returning from their Puerto Rico getaway, most of the couples move into their new shared apartments, beginning with Lindsey and Mark. She takes charge as soon as they get in, beginning laundry and asking about their next steps in helping Mark get his things from the old apartment he's being evicted from. Her eagerness is a bit much for Mark, but he makes the best of it and has fun with his wife chatting. Meanwhile, Olajuwon and Katina check out their new kitchen and discuss meal prep, something that he's expecting her to get involved with.
Noi and Steve make their new bed up with sheets and she admits she's nervous about living with a stranger now that vacationing together is over. As for Chris, he moves into the apartment for him and Alyssa alone as he cannot reach her, even by phone as she never shared her number with him. Michael asks Jasmina about sleeping, and she ends up leaving their apartment to sort out what she'll do with her dog before settling into the new apartment.
Getting to Know Your Spouse
The couples get to know each other by visiting each others' apartments and homes to pick up items for moving in together. First up is Noi who welcomes Steve into her apartment and introduces her dog Sushi to him. When she brings up sleeping with the dog in their bed, Steve shows some hesitation as he's not a big dog fan. Meanwhile, Lindsey does her best to help Mark get his items from a bedbug-infested apartment, but her approach is a little different than Mark would like as she tosses his clothing and other goods in black trash bags.
Olajuwon shows off his home gym and other spaces to Katina who is mostly impressed except for when it comes to his design sense, particularly with kitchen curtains. As for Lindsey's apartment, Mark can't help but notice her affinity for house plants, as they take up a lot of space. And Steve's baren living space is jazzed up by strips of LED lights that don't impress Noi much. As for Michael's visit from Jasmina, things don't go as planned when she reacts badly to his lack of being up front about the fact that he has a female roommate.
Nonstop Drama
In a brief confessional video, Lindsey fills viewers in on Mark's situation, noting that his life has blown up even more than just the apartment eviction. According to her, his grandmother's health is declining, and the stress is taking its toll to the point where Mark is acting like a different person behind the scenes.
And then there's Chris and Alyssa, both of which vent about their situation in separate meetups. Chris connects with a friend who listens to his story about Alyssa's hangups and lack of interest. Meanwhile, she chats with her mom, complaining that Chris has a lack of respect for her. It seems that Alyssa's main issue with Chris is a recent social media post he shared about defunding the police.
Pastor Cal Pays a Visit
Now that the metaphorical dust is settling as the couples ease into day-to-day life, Pastor Cal is making house visits to better understand where everyone is at right now. Among the first couple up are Michael and Jasmina who discuss communication. Jasmina also brings up that Michael's temper can turn into yelling, and so the expert offers some helpful advice to improve their connection following the honeymoon hiccup and recent roommate revelation.
When it comes to Olajuwon and Katina, Pastor Cal asks about their communication, and she admits it isn't always great because he doesn't always listen to what she's saying. Pastor Cal suggests that Olajuwon be more considerate and advises the couple to go all-in on their marriage as they've yet to consummate the relationship.
Noi and Steve discuss their varying views on money, and through a tearful moment, Noi explains that income insecurity stems from her experience of growing up in a refugee camp, and so it's important to her if they have kids that they make sure they're financially stable. Can Steve find a full-time job to ease her concerns? Only time will tell. As for Mark and Lindsey, things are a little tense and the couple has a bit of a fight before Pastor Cal shows up. When the expert arrives at their door, Mark greets him and Lindsey is summoned from their balcony.
See Also
Puerto Rico isn't paradise for everyone as drama abounds for some couples on the honeymoon.
Mark admits that he doesn't feel like Lindsey always listens to him and although he appreciates her helpful nature, he sometimes needs things to mellow out. They come to an agreement to listen more to each other and talk through things. Rounding out the night are Chris and Alyssa who meet with Pastor Cal at what should be their shared apartment.
When the expert questions where they're at, Alyssa claims she's ready to try, but it's too little too late for Chris who pulls the plug on their relationship, announcing that today is his Decision Day. Alyssa cries, claiming she worked so hard to get here, but Chris isn't convinced as he tells Cal he thinks Alyssa checked out during their wedding. With that doomed relationship now obliterated, it's up to the four remaining couples to prove whether or not they're a perfect match or not as Married at First Sight continues. Tune in next week to see how things proceed following this major reveal.
Married at First Sight, Season 14, Wednesdays, 8/7c, Lifetime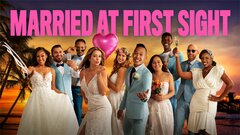 Powered by