Kat Dennings & 'Dollface' Cast on How COVID Delays Helped Shape Season 2 (VIDEO)
If it feels like it's been a pandemic-length wait for Dollface's second season to launch, and that's because it has been. The sly-as-hell Hulu comedy starring Kat Dennings as a Los Angeles-based web designer trying to reconnect with her girlfriends (Shay Mitchell, Brenda Song and Esther Povitsky) after a brutal break-up was last seen speaking the truth about female relationships back in November 2019.
Now, finally, the ladies are back and just as honest as ever. In fact, the opening episode of the sophomore installment even addresses the COVID-19 of it all and reveals that, following the events of the crazy first round, the squad is actually closer than ever. "We've seen that in these two years, the girls have stuck together, strengthened their bonds together, and no one knows where they are at the end of it, really," adds Dennings.
They have sheltered in place, shared their recipes, Zoomed their way through the storm and are ready to get back at it. What "it" means for them now, however, is very different from Life Before Face Masks. Jules (Dennings) is at a professional crossroads that is triggered, ironically, by the affair Madison (Song) had with their boss's husband. Meanwhile, Stella (Mitchell) is less than impressed with her post-grad trajectory in corporate America and Izzy (Povitsky) has found love in quarantine. There are also major birthdays looming and an Amazon gag that, God willing, will continue to create havoc for them all.
We recently spoke with Dennings, Song, Mitchell and Povitzky about the upside of postponing production on the second season and how it helped shape the storylines to come. The only thing we never got to talk about, sadly, was the safety pins in Povitsky's hair. Maybe next time, dolls.
Dollface, Season 2 Premiere, Friday, February 11, Hulu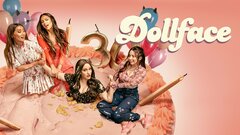 Powered by