'The Resident' Boss on Conrad Dating Again: 'He's Exploring' — Is Billie a Possibility?
Dr. Conrad Hawkins' (Matt Czuchry) latest patient is going to help him move forward after the loss of his wife three years ago.
In the winter premiere of The Resident, the donor recipient of Nic's heart came into the ER, and one of the fears was that she was rejecting the transplant. She wasn't, and after they correctly diagnosed and began treating her, Conrad told the patient about Nic, then introduced her to their daughter, GiGi (Remington Blaire Evans).
That plays a role in what's ahead for Conrad, who has started to dip his toe into the dating pool. (Remember, there was a time jump of three years soon after Nic's death.) Co-showrunner Andrew Chapman explains, plus teases what's ahead.
I'm pretty sure you broke everyone's hearts with the patient with Nic's heart, especially that last scene. What does caring for that patient and having that moment with GiGi mean for Conrad going forward?
Andrew Chapman: The loss of Nic on the show [was] obviously a huge blow to us and a huge blow to Conrad in the show. But seeing little bits of her come back into the hospital is just more and more closure and more and more allowance of Conrad to move on and move forward. The way that Matt Czuchry played it in that episode, the way that he was both really desperate to make sure that that woman lived and yet at the same time, he's like, it's just a heart, it's just a pump, it's not Nic, that was great and he played it such sensitivity. And I think that it really allows our lead to slowly move forward, to slowly seek out other relationships. We're not jumping into anything. He's not jumping into anything, but it's definitely on the table.
What can you say about that? Because I read that he's going to end up with someone this season.
Let's modify that slightly. He may end up with somebody, he may end up not with somebody. There definitely will be relationships on the table, possibilities. I don't think we're going to commit to anything, but we're exploring and he's exploring and Matt Czuchry is taking this very seriously. He wants to make sure that when Conrad is in a relationship, it's the right relationship and it's the right amount of time and he's taking it like he would his own relationship, which I love. He's very serious and very methodical about it. So there'll be a host of people that are possibilities. And I think we'll have really fun figuring out who that's going to be, little teases here, little teases there.
How strong of a candidate is Billie (Jessica Lucas)?
She is a possibility. She's Nic's best friend. She knows him better than anybody. She takes care of the kid. She's been there for him. She's in the running.
See Also
Co-showrunner Andrew Chapman also discusses Devon's challenges with his clinical trials and what Cade's hiding.
Speaking of Billie, you previously said she has a big storyline coming up in Episodes 12-14 about her past, her son Trevor (Miles Fowler), and being chief of surgery. Is there anything else you can share? How much do her comments about a neurosurgeon's life becoming the hospital play a role?
It does play a role. The big story will be also about her past and about her relationship to Trevor and opening up wounds and then closure.
The Resident, Tuesdays, 8/7c, Fox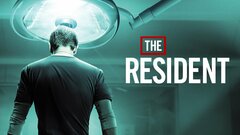 Powered by