TV Insider's Top 25 of the Week (February 7-13): Super Bowl, 'Inventing Anna' & More
Bookmark this page, because TV Insider is providing you with a handy weekly list. With so much on TV — including new and standout episodes in primetime, streaming premieres, movies, and specials — we're hoping to make it a bit easier for you to keep track of everything you don't want to miss. Every Monday, on our Shows page, we keep track of the 25 shows that excite us for the week ahead. Read on for what to watch the week of February 7-13.
Whether you're tuning in to see the Los Angeles Rams and the Cincinnati Bengals battle it out or you're just tuning in for the supersized (Eminem, Snoop Dogg, Kendrick Lamar, Mary J. Blige, and Dr. Dre) halftime show and star-studded commercials, NBC's Super Bowl (February 13) is going to be big, so of course it tops our list. Also on the Peacock network, the Winter Olympics (the Opening Ceremony was #1 last week), running through February 20, remains in our Top 10.
While many shows are in reruns during the winter games, the streaming offerings remain strong, including the two new series that round out our top 3. Inventing Anna (February 11 on Netflix) stars Julia Garner as con-woman Anna Delvey and Anna Chlumsky as the journalist after the story. Over on Peacock, The Fresh Prince of Bel-Air gets dramatized in the highly-anticipated Bel-Air (February 13), with Jabari Banks taking over Will Smith's role.
If you're a fan of Jeopardy!, you're in luck because you get even more of it this week, with the National College Championship, hosted by Mayim Bialik, kicking off on February 8 on ABC. Speaking of getting more, Euphoria (was #7 last week) continues its buzzworthy second season (February 13) after its recent third season renewal.
Also returning to the list from last week are: Pam & Tommy (was #2), The Afterparty (was #8), 9-1-1: Lone Star (was #9), Peacemaker (was #14), and Resident Alien (was #25).
Which other shows make our Top 25 of the week? And where do all of these shows, movies, and specials fall in our must-see rankings? Click here to find out, then sound off in the comments with your buzziest shows of the week.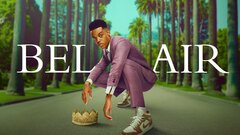 Bel-Air
where to stream