What's Worth Watching: 'Billy on the Street', 'The Middle', 'This is Us' and more for Tuesday, November 15
Billy on the Street (10:30/9:30c, truTV): Let's hope Billy Eichner never outgrows the street. When one of his ambush victims recoils from answering a random question, muttering, "I'm in a crisis right now, I can't," Billy screams into his mic, "I'm in a crisis, too—getting too famous too fast!" Thankfully, stardom in Hulu's acclaimed Difficult People hasn't taken the edge off Eichner's guerilla attitude in this giddy guilty-pleasure game show on New York City's sidewalks. He kicks off a new season dragging Mad Men's impossibly handsome Jon Hamm around to confront unsuspecting bystanders with the offer, "Would you have a threesome with me and Jon Hamm?"—for a dollar. Money and time hilariously well spent. I'm also partial to Billy's pop-culture non sequiturs which which he so breathlessly badgers everyone he meets: "Sir, is New Girl having a quiet renaissance?" (I don't think so either, for the record.)
The Middle (8/7c, ABC): One of the best of many running gags in this wonderful family comedy is the neglect that eccentric youngest child Brick (Atticus Shaffer) has had to endure over the years, including how the parents never remember his birthday. It happens again, only now there's an added sting to the occasion, because Brick is turning 15—which means it's time for him to learn how to drive. It's true we've seen this storyline play out countless times on TV—just never with a kid as weird as Brick, and expect the worst when he takes brother Axl's (Charlie McDermott) Winnebago for a spin.
This Is Us (9/8c, NBC): The season's best new drama gives new insight into the sibling strains between Randall (Sterling K. Brown) and Kevin (Justin Hartley), while Randall's wife Beth (Susan Kelechi Watson) unearths a new secret about his birth father, William (Ron Cephas Jones). In the past storyline, cracks in the relationship between Jack (Milo Ventimiglia) and Rebecca (Mandy Moore) emerge when she returns to work after years of raising the kids.
Inside Tuesday TV: Tony may be history on CBS's NCIS (8/7c), now that Michael Weatherly has decamped for Bull, but Robert Wagner returns as Tony DiNozzo Sr., as several of the team vie to sublet their departed co-worker's apartment. … AT&T's Audience Network (on DirecTV and U-Verse) explores the Religion of Sports (8/7c) in a new series about the intersection of sports and culture, beginning with a deep dive into the world of NASCAR. … It's senior year on MTV's Teen Wolf (9/8c), as the sixth and final season introduces yet another supernatural threat that could seriously ruin prom. … GSN's new competition series Window Warriors (9/8c) is all about, you guessed it, the window dressing, as top visual-merchandise designers display their best efforts for a panel of judges that includes Queer Eye for the Straight Guy's Carson Kressley. … Castle's Susan Sullivan guests on ABC's rollicking The Real O'Neals (9:30/8:30c) as the mom of Vice Principal Murray (Matt Oberg), who's among the too-many parties coming to Thanksgiving dinner when estranged spouses Eileen (Martha Plimpton) and Pat (Jay R. Ferguson) invite their new flames. … National Geographic Channel goes to the literal ends of the earth for its visually stunning new series, Continent 7: Antarctica (10/9c), where the living most definitely is not easy.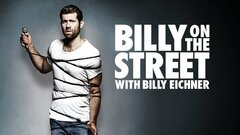 Powered by