What's Worth Watching: 'Mars', 'Timeless', 'The Voice', 'Hoosiers' and morefor Monday, November 14
Mars (9/8c, National Geographic Channel): As science fiction, this account of the first manned mission to Mars is pretty good. As an example of what might best be called science fact-ion, it's even better. In an innovative hybrid of documentary and speculative outer-space drama, the six-part Mars toggles between the reality of 2016 and the fantasy of 2033. In present day, talking-head visionaries including SpaceX CEO Elon Musk describe the challenges and promises of traveling to and colonizing Mars. No one says it will be easy, and sure enough, when the series cuts to 2033, with an international team of fictional astronauts embarking on a mission to the red planet, it's pretty much one white-knuckle calamity after another. Apollo 13 seems a cakewalk next to this engrossingly suspenseful and perilous star trek. Favoring hard science over character development, Mars is an intriguing experiment in storytelling that only sporadically achieves dramatic liftoff, yet space geeks will likely be in heaven.
Soundbreaking: Stories From the Cutting Edge of Recorded Music (10/9c, PBS, check local listings at pbs.org): Sir George Martin, the legendary Beatles producer (Sgt. Pepper's Lonely Hearts Club Band), described the art of recording music as "painting with sound," of which he was an innovative maestro, with Paul, John, George and Ringo as his human instruments. Before his death in March, Martin helped develop this extraordinary eight-part documentary series, airing weeknights through Nov. 23, a fascinating aural and oral history of how technology shapes what we hear. Wonderfully anecdotal as it covers everything from the discovery of Elvis and the development of Phil Spector's "wall of sound" to the rise of funk and hip-hop, Soundbreaking has a great beat and you can learn from it.
Timeless (10/9c, NBC): Return to another era of political upheaval as the time travelers chase Flynn (Goran Visnjic) to Washington, D.C., at the height of the Nixon administration's Watergate scandal, with the mystery of "The Watergate Tape" (the episode's title) being teased while Wyatt (Matt Lanter) confronts his tragic past.
Inside Monday TV: Garth Brooks drops by NBC's The Voice (8/7c) to advise the Top 12 performers as they prepare to perform live for America's vote. … The life of a World War II combat photographer is captured in HBO's documentary Underfire: The Untold Story of Pfc. Tony Vaccaro (8/7c). … A pop-culture touchstone most recently celebrated in Amazon's Goliath, the inspirational 1986 high-school-basketball movie Hoosiers airs on HDNet Movies (9/8c) in honor of its 30th anniversary.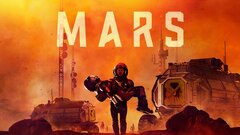 Mars
where to stream
Powered by