What's Worth Watching: 'Rectify', 'Speechless', 'Designated Survivor' and more for Wednesday, Nov. 9
Rectify (10/9c, SundanceTV): "Just breaks your heart, doesn't it?" says a character reflecting on the situation of former Death Row convict Daniel Holden (Aden Young), who left his hometown of Paulie, Georgia, after pleading guilty to a murder almost everyone is now convinced he didn't commit. Rectify quietly shatters the soul as it digs deep into the psyche of all those Daniel meets or has left behind. As the pensive Daniel tentatively befriends an artist (Masters of Sex's Caitlin Fitzgerald) at a Nashville co-op, his lonely mother Janet (J. Smith-Cameron) makes plans to visit him, whether he likes it or not. The family's fortunes may soon change, both financially and personally, and Ted Jr.'s (Clayne Crawford of Lethal Weapon) estranged wife, Tawney (Adelaide Clemens), has an epiphany during therapy: "I still catch myself trying to figure out who people want me to be." Rectify is often heartbreaking, but also ennobling in its empathy for these lost, yearning souls.
Speechless (8:30/7:30c, ABC): Puppy love takes an unorthodox twist in this unconventional family sitcom, when JJ (Micah Fowler) falls for an injured female athlete he helps learn to adjust to using a wheelchair around school. His younger brother Ray (Mason Cook) is also caught up in affairs of the heart, when he gets enmeshed in a faux "sexting" scandal that backfires.
Designated Survivor (10/9c, ABC): Can we really stomach another D.C. crisis, even a fictional one, so soon after putting this year's presidential race to rest? In this intermittently gripping political thriller, the new President Kirkman's (Kiefer Sutherland) efforts to build a new Congress is threatened when gunshots interrupt a Governers Summit at the White House.
Inside Wednesday TV: It's time for the merge on CBS's Survivor (8/7c), and strategies shift as the castaways participate in a classic individual immunity challenge. … In advance of Veterans Day this Friday, PBS examines Military Medicine: Beyond the Battlefield (9/8c, check local listings at pbs.org), reported by ABC News journalist Bob Woodruff, who was injured reporting on Iraq War combat in 2006. The special highlights advances in military health care that aids troops wounded in action and as they heal once they're home. … Wyclef Jean guests on NBC's Law & Order: Special Victims Unit (9/8c) as an Empire-like music CEO, who's questioned after the assault of a transgender student. … In a storyline reminiscent of a recent episode of This Is Us, the parents in ABC's black-ish (9:30/8:30c) fret when twins Jack (Miles Brown) and Diane (Marsai Martin) take a career test, and the results indicate Jack may be destined for a working-class future. … Jay Leno arranges a drag race with Corvette fan and Vice President Joe Biden and former Secretary of State Colin Powell in the return of CNBC's Jay Leno's Garage (10/9c). … Coming full circle from the way they met, Gretchen (Aya Cash) and Jimmy (Chris Geere) attend another wedding on FXX's You're the Worst (10/9c), but are more likely to be throwing brickbats than rice.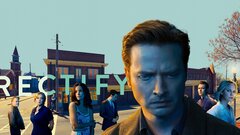 Rectify
where to stream
Powered by