'Grey's Anatomy' Season 18 Episode 7: Jo Catches Feelings for a Coworker (RECAP)
Today Was a Fairytale
Season 18 • Episode 7
For an episode called "Today Was a Fairytale"—as was Grey's Anatomy Season 18, Episode 7, airing December 9—there weren't a lot of happily-ever-afters. Just a lot of unresolved romantic and sexual tension!
[Warning: The below contains MAJOR spoilers for Grey's Anatomy Season 18, Episode 7, "Today Was a Fairytale."]
The good news is that Maggie is back in Seattle, having returned from her time with her father. (Seems like Kelly McCreary is back from her maternity leave!) She and Winston (Anthony Hill) spend almost the entire day in the on-call room, and you know what that means.
Anyway, Winston was supposed to join Bailey (Chandra Wilson) at a medical student convention, as was Meredith (Ellen Pompeo), who's stuck in Minnesota.
But Bailey isn't completely stranded at the convention: Dr. Michelle Lin (Lynn Chen), the plastics surgeon we met earlier in the season, helps her pitch Grey Sloan to prospective residents. Trouble is, all the other hospitals at the convention are bribing the med students with pizza and massages and laptops and other swag. And here's Bailey, thinking a hospital should stand on its merits and not on its goodie bags.
Meanwhile, Jo (Camilla Luddington) and Link (Chris Carmack) both have the day off. Link is in a funk about Amelia (Caterina Scorsone), so Jo makes him and Scout go with her and Luna to the park, where they see a traveling theater troupe performing Rapunzel. But Jeremy, the actor playing the prince, falls from Rapunzel's tower midway through the performance, and it's definitely not part of the show. Jo and Link sprint into action, with Link splinting Jeremy's leg and Jo performing CPR. They stabilize Jeremy and take him to Grey Sloan, where Link scrubs in with Teddy (Kim Raver), and the two of them successfully operate on Jeremy.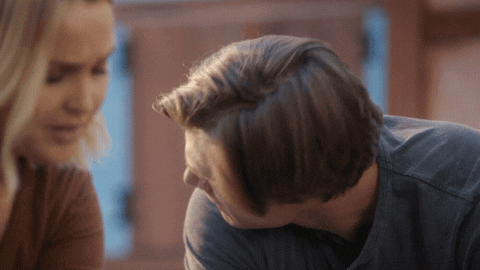 Later, as Jo and Link leave the hospital to go back to her place, Link confesses that he totally had a crush on Jo back in the day. He mentions this in passing, not noticing the bewildered look on Jo's face. Seems like she's just now realizing she has feelings for Link, too.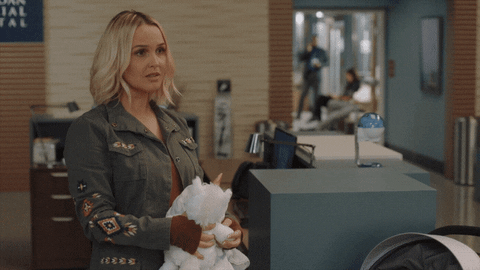 And over dinner that night, Jo wonders aloud if a fairytale ending is possible for them—if, say, all the trials and tribulations they've both been through are just the prologue to a love story. She's clearly talking about the two of them, but Link doesn't catch on. Instead, he's thinking only about Amelia. He realizes that he doesn't need marriage to be happy with Amelia. And he rushes off to call her, leaving Jo looking crestfallen at the dinner table.
But Amelia might have another prospect! The bulk of this week's episode takes place in Minnesota, where David (Peter Gallagher) is growing frustrated with Mer's lack of progress solving Parkinson's. And he has reason to be impatient: He fell at home and sprained his hand, and he did so in front of his granddaughter. But his impatience is translating to snippiness with Meredith, so Amelia proposes that Mer get out of the lab for a bit. And that means that Amelia has a lot of one-on-one time with Kai (E.R. Fightmaster), the scientist for whom she seems to have the hots.
Amelia and Kai get to know each other better this week, with Kai asking Amelia how she got into neurosurgery. Amelia says no one has ever asked her that before—everyone else has just assumed that she just idolized her brother. Kai asks who Amelia's brother is, and Amelia replies, "You just became my favorite person."
Eventually, Amelia and Kai make a breakthrough. After realizing that their motor-injector was warming the cells they were injecting into the (fake) brains, they realize they can chill the needle of the injector. And that leads to a promising result: 92% visibility, 2 percent more than what the FDA requires.
And so Amelia heads back to Seattle, bidding Kai farewell in a parking garage. They get awfully close, and they maintain intense eye contact, but they say their goodbyes and part ways with nary a hug.
As for Mer, she doesn't exactly get the day off there in Minnesota. Nick (Scott Speedman) ropes her into a partial adrenalectomy on a patient named Brian. Mer happily scrubs in, but it's only when Brian is open on the table does Nick confess that Brian was his childhood friend and kidney donor. Especially with that backstory, Nick is very much concerned that the surgery is going to harm Brian's remaining kidney.
Mer removes Brian's tumor successfully, though, with help from a skilled resident named Jordan Wright. During the surgery, Jordan tells Mer that it's an honor to work with her, especially with Mer's medical legacy. Mer thanks him, agreeing that her mother was one of the greats. But Jordan was actually talking about Bailey, whose work he found online.
And so, at the end of the episode, Mer flies back to Seattle—and she brings Jordan with her. Mer introduces Jordan to Bailey, saying that his work is excellent. So it seems like Grey Sloan didn't need a convention to find new talent—and we might have a new recurring Grey's character!
Grey's Anatomy, Thursdays, 9/8c, ABC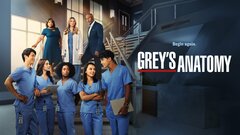 Powered by