'Blue Bloods': Tom Selleck on How Frank Reagan Deals with Brutality Accusations (VIDEO)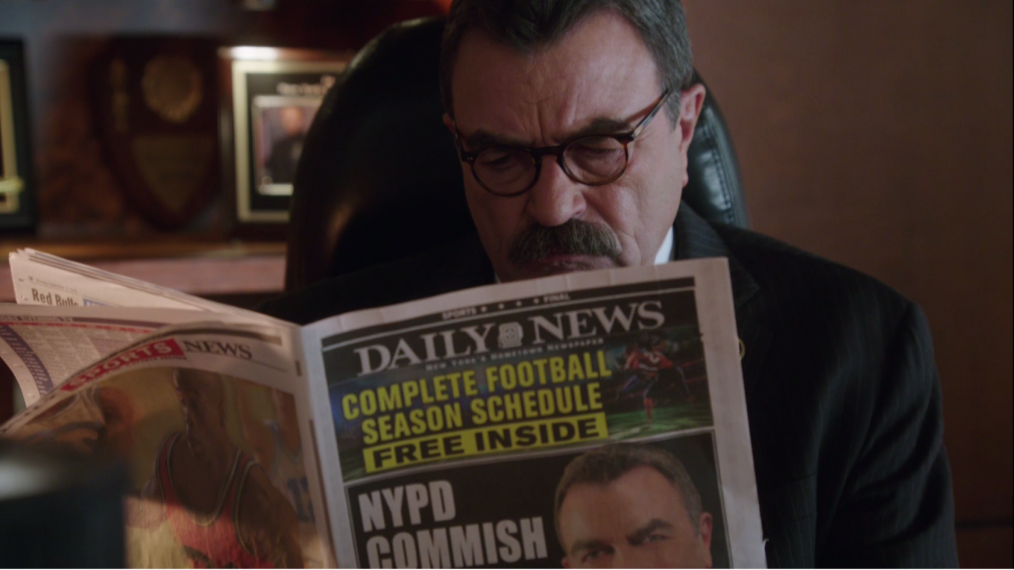 Don't mess with Frank Reagan's NYPD! You don't want Blue Bloods' commish (Tom Selleck) to take his gloves off. On Friday's episode, "Guilt by Association," The New York Attorney General's bulldog Robert Lewis (a returning Michael Imperioli) tries to strong-arm Frank into supporting the investigation of purported excessive force by his cops. Check out the exclusive clip below to see Frank's reaction to "being played' and what he and his department's mouthpiece, Garrett (Gregory Jbara), have in mind in response.
RELATED: Blue Bloods: The Reagan Family Faces New Challenges in Season 7
Frank's kids keep busy as well, of course, in the episode. A.D.A. Erin (Bridget Moynahan) interferes with her detective brother Danny (Donnie Wahlberg) when she enlists her investigator Anthony (Steve Schrippa) to help Danny find the killer of a key witness in the cop's case. And our favorite beat cop partners Eddie (Vanessa Ray) and Jamie (Will Estes) are called in to deal with an attempted suicide.
Selleck talked to TV Insider about the episode, plus some info on other non-Blue Bloods topics:
Why do you feel strongly about publicizing the particular episode that's on tonight?
I think CBS basically says, "Blue Bloods will take care of itself." We have some really good shows coming up, but I think this one is Blue Bloods at its best. We're still growing and we've got a huge audience, but I'd like more and more people to sample Blue Bloods who think they know what it is, but don't really watch it. I thought this was a perfect chance to do that.
The issue in the episode, "Guilt By Association," is a controversial one. It focuses on how the State Attorney General's office is investigating the NYPD for excessive force in minority communities. Frank thinks it's bunk.
It's a little risky in the sense that we don't do ripped-from-the-headline shows, but we do stories about police issues and even though they were developed months earlier, they end up being very timely when they go on the air. That's unfortunately one of the big issues of our time, but in this case, in Frank's opinion, the investigation is purely for publicity reasons. The actors had discussed it together when we were all at the family dinner table and I said, "If we take this on, we better do this fairly. Not just from the police point of view. That's why we got an actor as strong as Michael Imperioli [who reprises his role as the Attorney General's office's investigator Robert Lewis] to represent the opposing side. This issue is gray. I said, 'I'm not going to tell you what to think, you stick your toe in the water in this episode at your own risk."
You always say you're a family show not an issues show, but October 21's episode, "For the Community," was also a topical and contentious subject which was about the police and the U.S. Marshals going into a community to root out gang members almost like an invading army. Are you venturing into more controversial areas lately?
Well, the show has spoken frankly, but we don't take sides. I remember Bill Clinton brought up a subject that he thought we should cover—he's a big fan. As a result, we had an episode ["The Ties That Bind" from 2013] where Frank takes New York mayor Poole [David Ramsey], who's black, out on the street and points to a subject and says "Here's why I think he's carrying a gun, which is illegal, and why he should be stopped and questioned"; Frank wouldn't say frisked. But he also says that any officer who cares about his pension won't approach the man just because he's black. Our show has a broad spectrum that watches us, from right to left and we're not interested in expressing political points of view; we're interested in expressing problems in the human condition.
In the November 4 episode, however, isn't it fair to say that there is an agenda that strongly supports the police and downplays the charge of force against minority communities by making the governor's investigation out to be purely political?
Our show tells the point of view of a police family, but it certainly doesn't trivialize the issue. It trivializes this particular incident because Frank thinks it's without merit. And even though we're doing a fictional show, the statistics we use are accurate. In New York last year, with 35,000 cops patrolling 8 ½ million people, there were 35 incidents where an officer discharged his firearm. I'm sure opinions will come down both ways, but we felt inclined to be accurate.
The show ends with the threat of more investigations by the governor of Frank's police department. Will Imperioli return?
I hope Michael Imperioli comes back; he's a wonderful actor. Plus,we like to shed a little light in our writing.
There was another very strong statement in the episode. Frank tells a do-gooder captain more or less that a police force is not a community outreach organization or a social welfare department, but it exists to get criminals off the street.
That is what they do. I was very impressed when Police Chief David Brown said in Dallas after the police shooting tragedy said, "You are asking police to do too much." Frank's statement falls in that arena.
Is Frank a dinosaur of policing in this day and age? It's a term that comes up in tonight's episode.
He is not the political animal he should be to survive in a current world, in a position that is so prominent. Yeah, he's a dinosaur and I love that about him.
What's the latest with another Jesse Stone movie?
We had a two-picture deal with Hallmark and we've done one. I'm talking with Hallmark quite soon. They want to do the next one; I want do another one. The problem is finding the time to write it. My writing partner, Michael Brandman, and I won't do a Jesse Stone movie for the paycheck. It's important to have the time to do it right.
Finally,anyone from the new Magnum P.I. series reach out to you?
Is this my obligatory new Magnum show question? I can tell you nobody's talked to me. In the old days, if I was executive producing a show that was buying the rights to Magnum, I probably would've called me by now, especially because I had been an executive producer of the show for the last few years. That's not resentment, that's just the business. Look, all I care about is that Magnum holds a significant place in television history and I'm not just blowing my own horn. All I've heard is that Magnum's daughter comes back and takes over his investigative firm, which is interesting because he didn't even have a business card, let alone a firm. I have no control over it, but they're buying a title and if they put big explosions in it and trivialize the original franchise, I will speak up.
Final thoughts on tonight's episode?
Anybody who watches the show tonight is going to want to see another Blue Bloods. That's the goal. We're doing great. I'm not worried. We're not in any kind of crisis. It's just I love the fact the show's still growing.
Blue Bloods, Fridays, 10/9c, CBS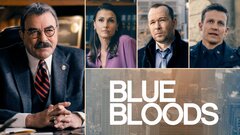 Powered by