'Madam Secretary': An Unexpected (and Idealistic) Twist in the Battle for the White House
Some shows are ripped from the headlines, but Madam Secretary prefers to rip its stories from the future.
The hit Beltway drama kicked off its third season this month with President Conrad Dalton (Keith Carradine) angering his biggest fat-cat donor by acknowledging climate change and the danger it's posing to America's naval bases. The fallout was swift and it was deadly: Dalton got a middle-finger salute from his own party members and failed to win the nomination to run for a second term—an embarrassing fate suffered by only one elected president in U.S. history (that would be Franklin Pierce in 1856).
RELATED: Madam Secretary: Will Elizabeth Run for VP in Season 3?
Now what? The only possible way Dalton can remain in the White House—according to his highly trusted secretary of state, Elizabeth McCord (Téa Leoni)—is to make a ballsy move and run as an independent. It's impractical. It's extremely chancy. It's probably insane, even in the progressive and aspirational world of Madam Secretary.
"It's looking more and more likely that our country will one day move beyond a two-party system, so we're putting it out there now," Leoni says. "We've been adamant since Episode 1 to never label any character as a Republican or Democrat—and that includes everyone in the Dalton administration—so we don't take this new direction lightly. In fact, when the idea of an election story first came up, we all thought, 'How can we possibly do this without discussing political parties?'" Leoni says there was even talk of dropping the election altogether, "but [series creator] Barbara Hall and her writing team found a great way to do it without painting us into a corner. Our integrity remains in fine, good shape."
But will Dalton's? The election results will be revealed on air in December, and he simply must come out on top. Otherwise, Elizabeth is out of a job and then there's no show, right? "I don't think Dalton necessarily has to win reelection, though that might feel like a built-in conclusion," Hall says. "We're taking the most interesting and surprising path possible with this election story, loading it with twists and turns, as well as rules and laws [our viewers] might not know about." Adds executive producer Lori McCreary: "It won't matter in the end if Dalton wins or loses, because getting there will be so incredibly satisfying."
She gets no argument from Carradine. "This is a picture of government we really need right now because the partisanship in our real-world politics is so sharply defined, so absolute, that real conversation has become impossible," says the actor. "Conrad becoming an independent will free him from the shackles of party loyalty. Now he can come from both sides of the aisle. Maybe, if he wins, he'll actually be able to get something done in Washington, D.C. Wouldn't that be nice?" Yes, it's all a bit fantastical, Carradine concedes, "but that's what makes our show an oddly comforting place to be on Sunday night."
Now, with the campaign in full swing, Dalton finds himself pitted against two daunting rivals—his former party's preferred candidate, the younger, camera-ready Gov. Sam Evans (J.C. MacKenzie), and radical isolationist Fred Reynolds (Michael Potts), neither bearing much political resemblance to Donald Trump or Hillary Clinton. "We didn't want to duplicate what we're all living through these days," says McCreary. "This is the kind of parallel-universe election we want to see—with Elizabeth, a morally ethical person, right at the center of it."
Of course, the move to go it alone has nixed the plan for Elizabeth to run as Dalton's veep. By her own admission, he now needs a running mate who's more politically advantageous. That hasn't gone down easy. "Elizabeth is not a career politician," notes Leoni, "but, in a private and very human moment at home with her husband, Henry [Tim Daly], she admitted that she did very much want the vice presidency. She wanted that shot at extreme power." Leoni does not share her alter ego's disappointment. "Hey, if this was happening to me, I'd so much rather be secretary of state," she says. "If you can do that job, hell, you can do anything."
Not only is Madam Secretary politically prescient—the show remarkably got the jump on the Greek debt crisis and the drone-killing of Jihadi John—but it also openly embraces religious theology. It sounds snoozy, but it's not. Henry, a professor of ethics and religion turned NSA spy, is currently in a rip-snorting fight to save religious antiquities that are being stolen and sold by the jihadist group Hizb al-Shahid to fund its terrorist activities.
"It's a topic that makes me sad and sick and brings out my worst self," Daly admits. "When I read about people who wantonly destroy precious art—art that reminds us of who we are as human beings—I think about the horrible things that should happen to them. Fortunately, Henry is a much better man than I am."
RELATED: Madam Secretary Declassified: Go Behind the Scenes (PHOTOS)
On top of all this, Madam Secretary is a highly relatable treatise on domestic harmony. Sure, the McCords and their three children have troubles—the family is currently being besieged by a cyber-stalker—but these people are stunningly functional and downright normal. "They're kind of like the Sopranos," Daly says with a laugh. "They live in a crazy, high-stakes world of life and death, but when they come home it's, 'What's for dinner?' Elizabeth and Henry cope with so many things that average people experience—moving to a new city, having a two-career family, dealing with kids who are being little s–ts in school—but they are passionately committed to making this marriage and this family work. We just don't see enough of that on American television."
Madam Secretary, Sundays, 9/8c, CBS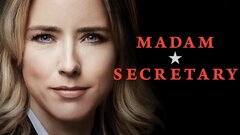 Powered by