Why 'Evil' Just Dropped Its Scariest Episode Yet
[Warning: The below contains MAJOR spoilers for Evil Season 2 Episode 4 "E Is for Elevator."]
Evil has had jump scares since the series premiere. (Who could forget the first time the demon George paid Katja Herbers' psychologist Kristen Bouchard a visit? But we have to admit we grew used to him.) While "E Is for Elevator" certainly has one of those, it's the truth behind a missing teen that's just as terrifying. And hey, when better for the psychological mystery to deliver its scariest episode yet than just after it was renewed for a third season?
Kristen, priest-in-training David Acosta (Mike Colter), and skeptic/tech expert Ben Shakir (Aasif Mandvi) are called in when a teen, Wyatt, goes missing and his parents find a pentagram on his bedroom floor. Carved into his desk is "EL GAME 8-4-2-13-1." Kristen's daughters inform her of the Elevator Game, which is supposed to take anyone who plays straight to hell. (The numbers are floors.) "If you do any part of this game wrong, you'll be haunted" by the souls of those who died in the building, the online video ominously warns.
When Kristen, her daughters (who refuse to stay home, and she just goes with it), and Ben try, however, they run into a problem: There's no 13th floor. (Pressing 14 doesn't work.) They do get a lead from Wyatt's friend: Her best friend, Felicia, was his girlfriend, and she, too, is missing after trying to find him by playing.
Ben and Kristen then continue their investigation separately. He hears about a 14-year-old girl getting cut in half when she tried to follow her dog out of the elevator and it dropped in 1963; she supposedly haunts the halls to this day. And when Kristen tries playing by herself again and stopping between the 12th and 14th floors, she has a terrifying experience: a vision of a girl cut in half crawling towards and leaping at her. (We'll probably never be able to rewatch that scene.) Kristen being Kristen assumes it's a hallucination from the medication she's on for her PTSD and calls her therapist, Dr. Kurt Boggs (Kurt Fuller).
After preying on a very real fear of getting stuck in an elevator and something tragically going wrong, Evil then reveals what happened to Wyatt and Felicia, via Ben's own nearly fatal experience. He figures out that by pressing 2, it looks like 13, for that step, and ends up on a sublevel of the building — one for which the elevator call buttons are broken, so when the doors close behind him, he has no way of escaping. Furthermore, there's no cell service (a horror on its own) so he can't call for help. Down there with him? The bodies of the missing teens — and Ben's very own demon, Abby.
She's there to comfort him, she says, before providing commentary to the messages he writes for his loved ones on his slowly dying phone. Fortunately for Ben, he doesn't end up like Wyatt and Felicia. Kristen and David realize he's missing and find him. Understandably, he immediately yells for them to keep the elevator open … and Abby joins him as he hurries inside.
In the end, it's the fact that it's not something supernatural but the teens just ending up in the wrong place after following some stupid internet phenomenon that's the real threat — and something that Kristen, David, and Ben can't easily stop. This one's going to stay with us for a while.
Evil, Sundays, Paramount+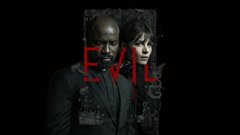 Evil
where to stream
Powered by